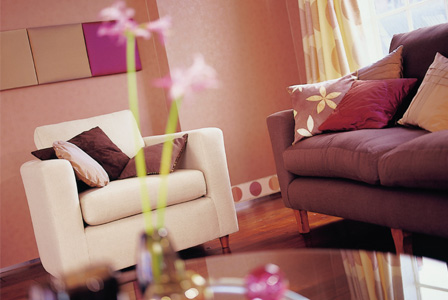 Welcome to Decorating Diva, where every week we share fresh, fun ways to update your home and spice up your living space!
Star-powered decor
We admit it: We're always interested in what celebs are doing – what they're wearing, where they're eating and most importantly (at least in this column), how they're decorating. Since spring is the perfect time to give your space a facelift, we thought we would find out about some of the hottest home decor trends being embraced by celebrities.
To learn more we turned to someone in the know when it comes to star-powered decor. We asked Courtney Cachet, celebrity designer, TV personality and an expert for TheGift.com to let us in on what she's been seeing when it comes to how the stars are decorating their homes this spring.
What celebs are loving right now
If you're wondering how your favorite stars are decorating their homes, there are few a notable emerging trends in color, prints and design. "We are seeing a continued trend in chevron prints in everything from napkins to baby bedding," Cachet tells us. "Fans are everyone from J. Lo to Gwyneth Paltrow, who used it in her daughters' bedroom at their Hamptons home."
Unapologetic luxe looks are back and bigger than ever for spring and summer. "Celebs are pulling out all stops in their homes, with over-the-top looks and accessories," she adds.
Big, bold color is also huge among the star set, including lemony yellows and hot pinks. "These looks are great for spring because they're lively, fun and bright -- the things we all love after dreary winter months."
From the stars to the stores: The birth of a trend
Wondering how a trend – be it chevron prints or hot-pink pillows – becomes a must-have? Look no further than the runway, Cachet says. "These trends almost always originate in fashion looks. When big celebrities get behind looks in fashion they often trickle down to home decor looks," she explains. Why? Because people start loving them so much they want them not only on clothing but in their homes as well, and retailers and designers are at the ready. "They're trends because we've started to see them everywhere and the consumers dictate the rest. It's really that simple."
You can do it too: Celeb decor tips
Make a note: Cachet stresses that no matter what the trend is, move ahead with a light hand. "Always keep your big, major pieces more classic, and accessorize with trends," she advises. A fabulous tailored couch will always be fabulous. Chevron pillows, metallic tabletop pieces and a Tangerine Tango throw are great picks this year, but maybe not next year, which is why they make better accessories than major purchases.
While you might not be able to afford to give your home the star treatment, there are several ways to decorate like a star – without spending a fortune. First of all, don't discount the small details. "Celebs pay attention to detail," Cachet says. They don't use fake flowers, they order real arrangements. Rather than host a part with disposable tableware, they use real silverware and glassware. "Little luxurious details are key," she says.
Celebrities also tend to go big. "They stay true to what they really love in the home and then do it to the 10th power. If you have the money to do the same, great. If you don't, just think about what you love and do it the best you can," advises Cachet. Don't just fill up rooms with cheap decor items you don't really love just to feel like you decorated. Wait until you can afford what you really want and then go for it." You can also shop vintage, eBay and flash sales, she advises. "Pretty soon you can have your home looking like a fab celebrity designer decorated your home, too!"
Celebs with an eye for design
It's hard to say much about most celebrities since they get help from people like Cachet, even when credit is kept under the wraps of a confidentiality agreement. But she notes: "Brad Pitt has a very sophisticated eye for architecture. Lara Spencer of Good Morning America has a keen eye for decor," adding "Brad and Lara are celeb decor outliers!"
More from Decorating Diva
8 Stylish ways to impress your guests
Budget-minded design ideas we love
The busy girl's guide to home decor