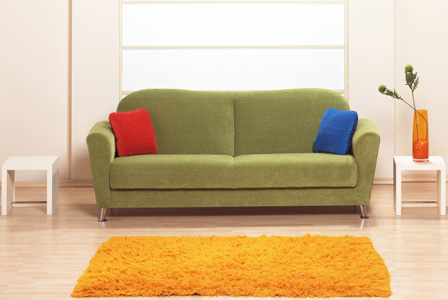 Welcome to Decorating Diva, where every week we share fresh, fun ways to update your home and spice up your living space!
Hot green decor trends
You carpool, recycle, never leave the house without your reusable bags and always eat local and seasonal foods when you can. Want to ensure your home is as green as your lifestyle? It's easier than you think – and doesn't have to compromise on style.
To learn more about making eco-friendly decor choices, we turned to DIY expert and HGTV and Style Network host Kelly Edwards for her insight how to stylishly go green in every room.
Go green – literally
It's time to go green in both lifestyle choice and color, a trend emerging for spring and summer. "I'm seeing green pop up everywhere, just in time for spring, both outside and in home decor," Edwards says. "Opt for a great green sustainable rug or throw blanket for a quick pop of color on a neutral sofa. Green is a very classic color that offers that sense of renewal," she explains. The trend this year is the rich, saturated greens – think emeralds, Kelly green, kiwi and fresh, leafy hues. To keep your green home accents "green" in the larger sense, choose sustainable materials. They will be less processed, use fewer resources and don't contain plastics, rubber or other harmful chemicals, the designer tells us.
Add texture
Rooms that lack texture can look flat. Luckily, there are several eco-friendly ways to add texture to your home, another noteworthy trend to consider. "Pick a few natural textures like rattan, organic linen, cotton, or sisal and mix them together to create more of a dynamic space," advises Edwards. "Texture brings things to life and makes your space look more interesting." Natural elements are definitely more of a design staple lately when it comes to adding texture to your space. Not only is the effect on-trend and eye-catching, by using natural fibers you are keeping chemicals and pollutants out of your home.
Embrace reclaimed wood
One of the biggest trends in green home decor is reclaimed wood – think anything from old skids, barn boards or antique table tops being reused in fresh new ways. "Mixing reclaimed wood pieces gives any home a beautiful rustic look. Pairing it with a few modern pieces instantly turns it into rustic-chic," Edwards says. She suggests mixing styles like wood and acrylic for a look that's fresh and turns the whole room into an updated version of the old rustic design style. "This is upcycling to the best degree."
Use eco-conscious paint
If you plan on painting any time soon, consider using a zero- or low-VOC paint in classic colors, Edwards advises. "Shades of white, gray, black, blue, light pink, green and gold are found on everything from textiles to walls to furniture this season," she adds. Why rethink the paint you buy? Paint is definitely toxic, the designer warns. Low-VOC paint emits fewer harmful chemicals into the air. This is important at all times, but especially when it comes to painting kids' rooms.
Add more plants to your space
Plants offer so many positive things for home decor. They liven up the space and filter the air – it's win-win. This year's floor plant to have is a fig leaf tree, says Edwards. "It reminds me of the modern version of the palm," she says. Other options include adding window boxes for fresh herbs in your kitchen window, or trying your hand at low-maintenance houseplants such as philodendron, rubber tree, English ivy and dracaena.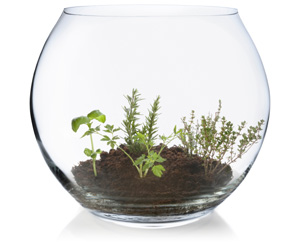 Trend alert: For a great centerpiece, create your own indoor terrariums, suggests Edwards. Scour thrift stores or garage sales for the right glass case (we've seen everything from glass jugs to fishbowls used) and add your plants of choice.
Green your home improvement
Need something new at home? Make the eco-conscious choice if and where you can. "This can be as simple as painting your home with non-toxic paint or even switching out your regular bulbs with energy-efficient ones," says Edwards. If you're going to make any green home improvements she mentions changing your shower head as one of the best. According to the EPA, showering accounts for approximately 17 percent of residential indoor water use in the United States – adding up to more than 1.2 trillion gallons of water each year nationwide! "A great way to reduce water consumption is to switch out your current shower head for a Waterpik EcoFlow shower head. Not only do they come in a variety chrome designs, including rain and handheld, they save you up to a gallon of water per minute and up to $100 annually in water and energy costs," the designer tells us. "They are conservation without compromise."