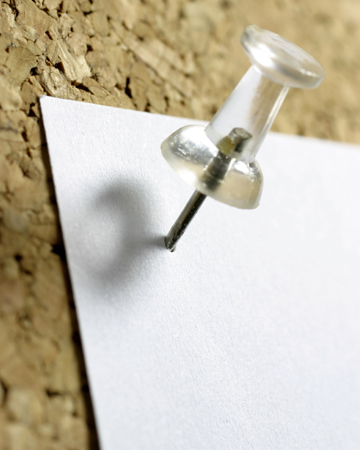 Stylish new bulletin boards
You may associate bulletin boards with your grade-school days as something your teacher used, but the common bulletin board has been replaced by creative and fun versions that can really add a cool design dimension to any space.
The bulletin board is special because it can have a place in your life as a work or play tool -- and sometimes even as both. Many people have a cool bulletin or blackboard by their work area to make notes of to-do lists, meeting information, work to be delegated and other important work-related tasks that might otherwise wind up out of sight, out of mind.
The image or vision board, where a bulletin board serves as an inspirational instrument when you fill it with photos you've taken, happy colors, mementos, quotations, stamps, magazine pages or whatever you find motivational and inspiring, has gained great popularity in the past few years. It's sort of another tier of scrapbooking.
Whether you want it for the office or your home's kitchen, there are many new and different bulletin boards out there to suit any style and personality.
Here are a few of my favorites:
Bulletin board uses
Bulletin boards have come out of the closet, so to speak (because I've been known to hang one inside a closet door) and are now a part of many home and work spaces 24/7. Use a cool new board as a catalyst to get organized, set and achieve goals, or just to write reminders for your mani/pedi appointments. No matter how you choose to use it, you'll love your new bulletin or blackboard. You can put a note on your board to thank me later!
More home decor
2012 Trend Report: High Point Market
The glitz and glamour of Hollywood Regency style
Trends in window shades