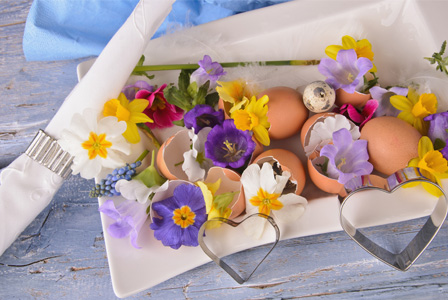 Welcome to Decorating Diva, where every week we share fresh, fun ways to update your home and spice up your living space!
Easy Easter decorating
Easter is around the corner (we've already started stocking up on chocolate eggs). But aside from the plethora of sweet treats, Easter also makes for a fun time to decorate. If you want to add a bunny-approved twist to your home, we're here to help. Read on for some expert tips and tricks for stylish Easter decor.
We asked Mark Addison, designer and expert for Celebrations.com, about his tips and tricks for adding an Easter twist to your home. "For me, Easter is all about the blossoming of new beginnings. A mega-dose of color is just what we all need to awaken after a cold dreary winter and the easiest element to incorporate into your home," he says. "Using colors on your tabletops, plates, food and drinks can reinvent your Easter celebration at home."
Easter colors
Soft, eggshell hues might be the usual choice but there are more options for Easter color, Addison says. He suggests a few key shades to help create a stylish and Easter-ready home. "Bright and pastel colors are really big this season and are great options to make your home ready for Easter," he advises.
Here are his three go-to spring color palettes:
Neon:  Fireball, neon orange, electric yellow, neon green
Pastel: Blush, canary yellow, apple blossom, pool blue, hydrangea
Classic spring: Aqua wave, daffodil, butternut, desert sun
As for how to incorporate these hues into your home, Addison suggests using or building on what you already have. "I love purposeful design, so this year I've reinvented my Easter table in a whole new color scheme but have incorporate plates I already have," he tells us. "By using solid blocks of color you can create a pattern on the table that provides bright spring hues."
Quick tip
Quick tip: It wouldn't be Easter without eggs, and dyeing eggs new colors is an easy way to reinvent the tradition. You can dye the shells of your eggs to match your decor color scheme, adding a simple twist to an Easter staple.
Easter accents
Flowers are the easiest accent to transform your home into a bright re-creation of a garden – a look that's perfect for Easter but doesn't have to change post-holiday. "Bulbs are great flowers to use for Easter and easy to maintain through the spring," Addison says. You can plant bulbs in a growing container at home as long as it allows room for the roots to grow. Place bulbs over at least one inch of gravel, depending on the bulb type, then completely cover the bulb with gravel and store in a cool, dark spot. As soon as you see the green growth above the gravel, move the bulb to a sunny area, he advises.
Make a note
If you don't have a green thumb or time to plant, you can still keep the garden feel by using vases and colored gravel to contain gorgeous cut hyacinths and daffodils that will make your home "spring" to life.
Finding a balance
Addison advises when you decorate for a specific holiday, keep things fresh and on-trend without going over the top. "When decorating for any holiday, you should work with items you have at home. Most of the items you need to decorate you probably already have," he says. "You can repurpose almost any item to make your decor for the holidays fresh and on trend."
Easter inspiration
Not sure where to start to give your home an Easter twist? Take inspiration from things you like and admire and work them into your decor and scheme, says Addison. "I love macarons from the renowned Laduree in Paris. The pastel colors of their macarons have inspired me this year to have a very French-inspired Easter filled with pastel colors, gold accents and rich textures."
Addison is always tweeting his inspirations. If you need some more help or just want to see what he's up to in terms of entertaining and decor, tweet him (@markaddison).
More from Decorating Diva
10 Exterior upgrades to give your home instant appeal
Get a designer look without a designer budget
Stylish finds for your four-legged friends