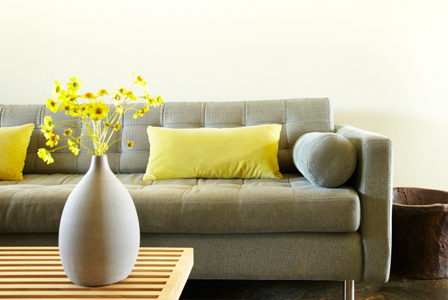 Welcome to Decorating Diva, where every week we share fresh, fun ways to update your home and spice up your living space!
Spring's most sought-after hues
While tangerine might have been crowned Pantone's color of the year, there's more than one shade to embrace this spring. If you're wondering which hues to use to give your home a boost, we have the scoop on three of the hottest colors to incorporate into your space this spring.
We asked Lori Sawaya, color strategist and color trend forecaster to give us her take on the must-try color trends for spring. The hottest color trends to embrace for your home as the weather warms up are gray, yellow and green. "These colors are important right now and you can easily use them to infuse a fresh burst of color in your home," she says.
Gorgeous gray
Bored of beige? So are we! Lucky for us, it's being replaced with a new neutral. "We're in the midst of a trend where gray is replacing beige and taking over as the 'in' neutral color," Sawaya says. "Gray is considered neutral because it is a mix of many colors and as a result tends to harmonize well with other hues. Because of the way gray is made, it's versatile," she explains. In fact, gray is known as "the designer's workhorse," because of just how versatile it can be. However, be mindful that gray can feel cold, empty or even stark, so it's important to pair it with fun, energetic colors such as blue, orange or purple.
Loving this now: Add one of spring's top shades to your bathroom with these stylish, organic pleated-edge towels in slate gray (westelm.com, $6 to $19).
Yes to yellow
Yellow is the perfect counterpoint to gray. "The bright, spring-ready shade is sunny, optimistic, warm and welcoming, and is the perfect color choice this season for home accessories," Sawaya says. If you're wary of this often-bold hue, don't be -- you have options. Look for a range of yellows, from bright lemon to pale and butter-like. When it comes to choosing yellow as a wall color, there are a few things to watch out for, the color strategist warns. "More people err when choosing yellow than any other color because they often underestimate its brightness and intensity," she explains. To avoid choosing the wrong yellow, don't reach for chips from the yellow section of the color display. Instead, try searching in the beige and off-white sections because that's where you'll find paint colors with definite yellow undertones that come through loud and clear once up on the walls. You'll want to be sure to sample and test the colors in your space before committing.
Loving this now: Welcome spring in style with this buttery yellow sofa, the perfect anchor piece for your living or family room (potterybarn.com, $1,399 to $1,899).
Going green
Is there any other color more conducive to celebrating a new season than green? We didn't think so. Green is back in a big way and one of the most stylish hues to try this spring. "Saturated colors like kelly and emerald green are super-hot right now," Sawaya says. "Green brings a sense of newness and energy to any space," she explains. If an entire room painted kelly green is too strong for you, choose to use it as an accent. Bright green pillows on a neutral couch add an instant energetic pop to any room.
Loving this now: Give your living room or den a boost with this chic, eye-catching lamp in various shades of gorgeous green (anthropologie.com, $88).
Buying guide
Sawaya shares some simple ways to incorporate spring's hot hues into your home:
Duvets and toss pillows
A single feature or accent wall in your family room
A dresser or side table for your bedroom
A high-gloss green to update a tired coffee table
Painted bookshelves -- the whole piece or just the back
More from Decorating Diva
 5 Small but stylish updates with color
The busy girl's guide to home decor
Stylish finds for your four-legged friends