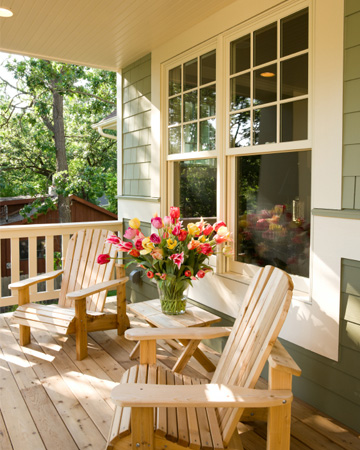 It's what's outside that counts
Welcome to Decorating Diva, where every week we share fresh, fun ways to update your home and spice up your living space!
What your home looks like on the outside sets the tone for what potential buyers (or even guests) expect of the home they're walking into. Since most people's buying decisions are based on an emotional response, the curb appeal starts the love affair, or terminates it immediately. If your home's exterior needs an upgrade, we're here to help. You don't have to completely overhaul the outside of your home --  a few key changes will make a positive difference.
No matter your budget, dealing with curb appeal issues are important, since what people see upon arrival is the first impression they have of your home. With that in mind we share some simple ways to spice up the outside of your space.
Start with the most obvious
If you can only do a few things to spruce up the exterior of your home, start with the most glaringly obvious. For example, if your garden is overrun with weeds, the front lawn hasn't been cut in so long that you need a machete to get to the door and remnants of last spring's garage sale still adorn the front porch, mow the lawn, pull the weeds and get rid of the stuff you don't need. A messy front yard will be the first thing a potential buyer sees and it might tell them not to look any further. You don't have to have a prize-winning rose garden to attract potential buyers, just a yard that looks tidy and well cared for.
Add planters
Adding planters (even store-bought, ready-made ones) can go a long way to the perception of a loved home. They not only add color to a porch or patio, they're eye-catching and give the impression you spend time improving your surroundings. Flowers are nice but also think about using tall grasses, succulents and ivy.
Ensure consistent window treatments
Matched blinds and curtains can add a lot to the perception of quality and thought put into a home. A lot of people don't even think about how this interior element affects the look of the exterior but it makes your home look polished and organized. It's also important to wash your windows, since this is also something that has an effect on the inside as well as outside of your home.
Wake up your driveway
Since the driveway is one of the first things prospective buyers (and guests) will notice, it's a good idea to freshen it up. A tired driveway can be refreshed by adding a sealer, an inexpensive makeover that can be accomplished in a short time by almost anyone.
Create a welcoming porch
An empty porch can look stark and cold. If you have a porch large enough to accommodate furniture, set up a welcoming grouping such as two exterior club chairs and a table or a bistro set for dining. It's also a good idea to add some color, with plants in containers.
Put down new sod
A lawn in poor condition does not create a good first impression and is something you should consider replacing if you're trying to sell your home or just want to polish your yard. It's a lot faster to put down new sod instead of seeding and waiting.
Spring for new accoutrements
Adding a new mailbox, house light and house number is a cheap and cheerful way of updating your home's exterior. Big-box stores (Walmart, Target, for example) usually stock simple yet stylish well-priced options for these items.
Add mature plants
When working on flower beds, adding larger mature plants is a lot easier and in some cases less expensive than buying several flats of annuals. Larger, more mature plants also tend to have a greater impact and create more interest than smaller plants do.
Replace windows
Replacing windows is expensive but has a definite impact on curb appeal. It can make your home look polished and give the impression you've upgraded more than just the windows.
Repaint
Giving the exterior of your home a fresh coat of paint can do wonders for curb appeal. We suggest painting your house in the color of homes in a more expensive neighborhood as a great way to create the perception of quality while doing something you probably already need to do.
More from Decorating Diva
Spring ahead into the hottest design trends for next season
The busy girl's guide to home decor
Budget-minded design ideas we love