Kate Spade clutch watercolor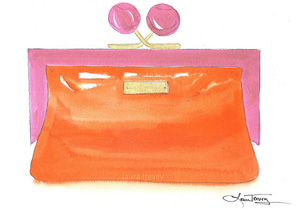 Who can resist the perfect little purse? It's difficult under any circumstances, but it's nearly impossible when it's captured in a beautiful watercolor print. The Kate Spade clutch watercolor ($18) will help you swing into spring with a splash of trendy orange and hot pink. It measures 7.5 inches by 11 inches and is mounted on foam core backing board.

You can also find Kate Spade on an iPhone 4 cover >>
Watercolor giclee print on canvas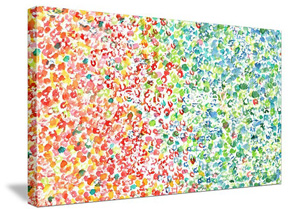 Featured in Roo Magazine, Laura's watercolor giclee print on canvas ($248) will liven up any wall. This gallery wrapped canvas -- a high-quality print on an artist's canvas -- appears to float on your wall. It's 42 inches by 28 inches, but you can order an even larger size.
Bright tulips in watercolor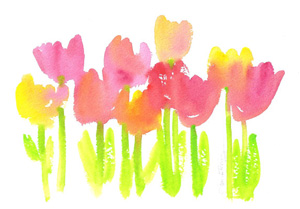 Soft, sweet, inspiring. Laura's Bright Tulips in Watercolor piece ($45) will help you swing into spring -- all year 'round. If you're looking to brighten your mood, this is the way to make it happen. This 5-inch by 11-inch original in pink, lime and yellow is simply perfect.
Tangerine tie dye watercolor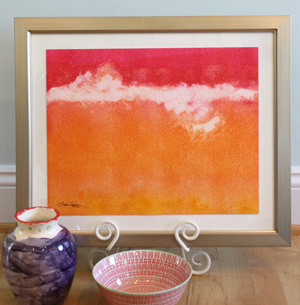 Tangerine Tango is the color of the year, so put it up on your wall! The Tangerine Tie Dye watercolor ($75) is a modern, fun, colorful and chic addition to your home decor. Tangerine Tango dominates the painting, giving it a rich and bold statement. Catapult your wall into 2012!
More Etsy goodness
Etsy roundup: St Patrick's Day decorations
Etsy roundup: Vintage home decor
Etsy roundup: Pink home decor