St. Patrick'S Day-Inspired Decorating Ideas
With St. Patrick's Day just around the corner, we decided to round up a few Irish-themed home accessories. This stylish decor is sure to bring Irish luck year-round.
Whether you want to honor your Irish heritage or simply want to create the fun atmosphere of your favorite Irish pub, we found the perfect home accents to decorate your abode.
Irish pub vintage sign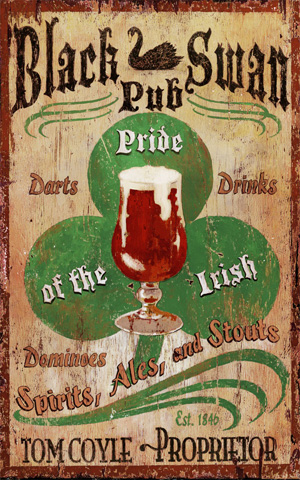 This authentic-looking Irish pub sign will add a festive vibe to your favorite entertaining space. Made in the United States from real hardwood with durable tongue-and-groove joints, each sign has its own slight differences, making it unique. ($45, Wayfair.com)
Clover vanity stool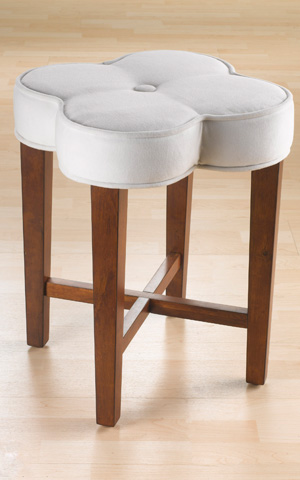 Start your day off lucky with this four-leaf clover vanity stool. The playful design brings a touch of whimsy to an otherwise serious space. The cherrywood legs and neutral fabric looks great with a variety of accent colors (including Ireland-evoking greens).  ($83, Wayfair.com)
Irish pub tray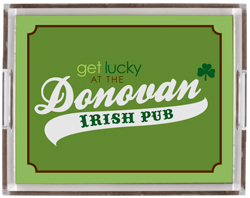 How cute is this designer Lucite tray? The design can be personalized with your name, giving your space a custom look. The modern graphics are a nod to St. Patrick's Day, while the fresh color combination and clear acrylic base make it a quirky accessory for everyday use. ($119, ErinCondren.com)
Irish Claddagh knot sachet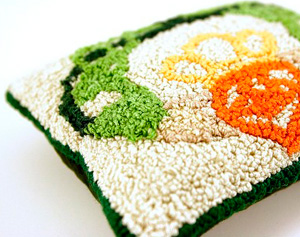 The Claddagh symbol is one of Ireland's signature motifs. Popular in rings, the distinctive design features two hands clasping a crowned heart. This handmade Irish knot sachet spotted on Etsy contains a fragrant mix that will give your closet an Irish spring scent. ($39, Harp and Thistle Stitchery, Etsy.com)
Four-leaf clover doormat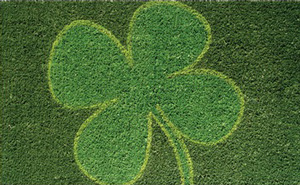 Whether decorating for St. Patrick's Day in March or showing Irish pride year-round, welcome guests with a lucky doormat. The simple shamrock design and bright green colors will let neighbors know that spring has almost sprung. ($34, Wayfair.com)
Claddagh door knocker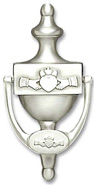 This pewter door knocker looks simple and unassuming from the street, yet is full of symbolism of friendship, love, and loyalty — a great way to greet visitors. Imported from Ireland, each piece is traditionally made and hand-finished. ($85, CelticbyDesign.com)
More St. Patrick's Day decorating ideas
Stylish St. Patrick's Day decor
St. Patrick's Day-inspired home accents
Crazy for St. Patrick's Day crafts