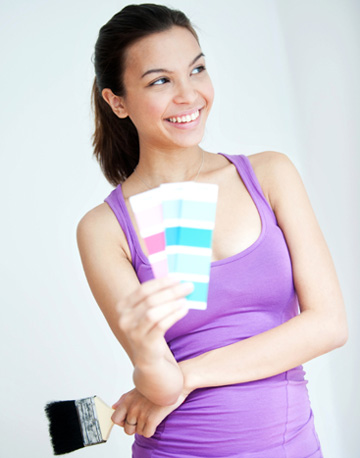 Easy ways to color your world
Welcome to Decorating Diva, where every week we share fresh, fun ways to update your home and spice up your living space! If you're bored with your current decor scheme, the style fix is simple. You can easily update your space using color.
We asked Lori Sawaya, color strategist and color trend forecaster, for her tips on what hues to add to your space and how best to incorporate your chosen shade into your home.
Jazz up exterior doors
A quick way to rev up your home's curb appeal is to paint exterior doors. "The outside front entrance of your home sets expectations for what visitors will find on the inside," Sawaya says. "Don't be afraid to choose a color that reflects your personal style." For 2012, a high-gloss navy blue is one of the hottest exterior color trends, she tells us. "Diamond Vogel's CoteAll, $51 per gallon, is the perfect product to achieve high-gloss exterior doors." Diamond Vogel is a small paint manufacturer and will ship from their Orange City, Iowa, location. The company was founded by Andrew Vogel, a Dutch immigrant, who brought with him the high standards Dutch paints are famous for. Diamond Vogel offers you an affordable way to experience it for yourself.
Go bold in the foyer
The main entry is ideal for bold wall color or a dramatic wallpaper pattern because people don't linger very long in this area, Sawaya advises. "Greet all who enter your home with colors that speak warmth, personality and welcome," she says. "Since the foyer is often a smaller space, you can splurge on the perfect wallpaper or a boutique, hand-mixed designer paint brand like Ellen Kennon's Full Spectrum Paints."
Switch up powder room bath linens
The powder room is an often overlooked opportunity to add punches of color to your home. "Opt to paint the walls a neutral color so you can use bath linens in a broader range of colors and patterns," advises Sawaya. "Change them out seasonally to match a party theme, or whenever the mood strikes. A neutral wall color means you can spend more time shopping for fun bath linens and less time trying to coordinate colors," she explains. Think about bright citrus hues, green or magenta for spring.
Add interest to interior doors
While it's always best to paint the outer face of all interior doors the same color for continuity and flow throughout the house, there are no rules about what color to paint the side that faces inside a room, says Sawaya. "The guideline for interior doors and trim is if it is behind a door that closes, then it doesn't have to be the same as the rest of the house," she says. "One option is to paint the door the same color as the walls. Or to add an unexpected pop of color in the room, choose something fun, bold and contrasting to the walls."
Try wallpapering a stretched canvas
After several years out of the home decor spotlight, wallpaper is once again a popular choice. If you love the idea of adding color, pattern and texture to your home but don't want to commit to wallpapering entire walls or rooms, Sawaya suggests papering a large stretched canvas purchased from an art supply store. "It's an easy custom look because you can choose the size of canvas for a perfect fit in your space," she says. "One roll of wallpaper will be more than enough for this project so be sure to ask about discounts on discontinued patterns and shop the clearance bins."
More from Decorating Diva
Budget-minded design ideas we love
Stylish finds for your four-legged friends
Putting a signature spin on your space