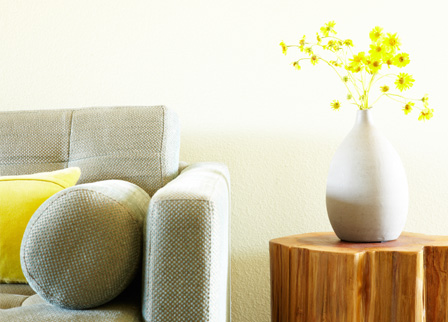 Welcome to Decorating Diva, where every week we share fresh, fun ways to update your home and spice up your living space! It might still be winter out there but that won't stop us from looking ahead to warmer temperatures.
Four fabulous spring design trends
In fact, we can't wait for spring and we're already thinking about how to update our decor to reflect a brand-new season. We have the scoop on some of the top design trends making their way into the spotlight.
Courtney Cachet, celebrity designer, TV personality and an expert for TheGift.com, shares her take on what spring has to offer when it comes to home design. But before you panic at the thought of redoing your space,  you don't have to think big. Taking your home from winter into spring can be ultra-simple. "You can shake off winter with a few colorful accessories, a fresh-smelling bouquet of flowers or simply changing heavy window treatments and rugs for lighter, airier counterparts. It's that simple," she tells us. But if you're looking for something a bit bolder, read on for four spring trends to look forward to.
Chic meets rustic
If you're feeling indecisive about what direction to take your home – sleeker and urban or minimalist and organic – now you don't have to decide. Incorporate both for a nod to next season's mix of styles. "A new trend we are seeing for spring are high-gloss finishes alongside more organic or rustic finishes," Cachet says. "We are seeing this in furnishings and in design overall."
Eye-catching brights
Get ready to embrace your colorful side this spring. We've always been big fans of color (the brighter, the better) but bold hues don't always make the list of must-try trends. For spring, however, eye-catching color is going to be everywhere. "Another trend is more bright color again this year. Typically, when the economy is sluggish, bright colors stay at the forefront," explains Cachet. "They are a welcome addition to any home, no matter what style." Now that Tangerine Tango has been named the color of the year by Pantone, look for vibrant shades to be popping up all over the place, the designer says.
Smart homes
How smart is your home? Cachet tells us that smart homes (homes that use technology to make things easier and more efficient) are growing exponentially. "Whether you live in a New York City apartment or a sprawling suburban home, chances are you are wired or wireless to some degree," she says. "iPads are the new remotes, CDs and DVDs are practically nonexistent and everyone wants to see what's going on at home at all times from their computer or smartphones." Whether you have a fridge that allows you to tweet and look up recipes or you stream music throughout your home from one device, expect even more ways to go digital at home this spring.
High-end work spaces
Home offices are usually one of the last places you see high design. The space is often strictly functional, rather than fashionable, but that's about to change. "We are continuing to find a way to carve out a functional and fashionable work space at home," Cachet says. "Work spaces are glam, sophisticated and look far less office-like than was de rigueur not so many years ago. They are now a legitimate room in the home and not just an afterthought." This is likely due to more and more people working remotely or dividing their time between their home office and their place of work. "You will continue to see the home office trend grow. More and more people work remotely and maintain a home office. Nowadays, everyone can work everywhere."
More from Decorating Diva
Stylish finds for your four-legged friends
Get a designer look without a designer budget
5 Ways to brighten up your home this winter