Pink isn't just for little girls' rooms. Sure, some 7-year-olds have rooms that look as though a pink bomb went off, but you can use pink to accent your home in a grown up way. Adding a soft -- or bold -- touch of this girly color to your home decor is fun and feminine.
In honor of Valentine's Day, we've rounded up different pink pieces of home decor to bring a little of the color of love to your tabletop, sofa or floor. There's no need to go overboard -- just a splash of pink adds a ton of pop.
Orchid owls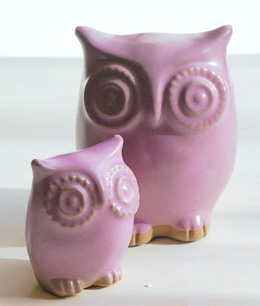 Whoo-whoo! These orchid owls ($45) by Etsy seller Claylicious are absolutely adorable. The seller believes owls inspire wisdom, patience and good judgment. Who can't use a little of each? The handmade ceramic owls are sweet and dainty and not too pink -- they have a soft color and a great matte glaze finish. The mama and baby would be darling perched on a shelf.
Crochet pink area rug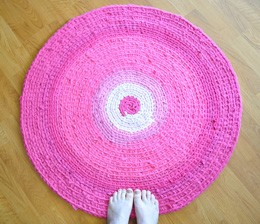 Look down for a round, pink pop! Etsy seller Emily Kircher (find her on Facebook and her blog) created this super-bright and eye-catching crochet pink area rug ($112) with yarn that she hand-cut from salvaged fabric, collecting knit T-shirts and fleece fabric scraps from thrift stores. We love upcycling! Emily says that using fabric yarn creates a rug that is thick and soft, yet very durable. And, of course, it's oh-so-pink.
Hot pink blackbird
jewelry box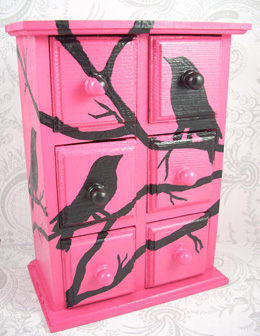 Need a place to store your odds and ends? Etsy seller Pet Zombie Creations (find her on Twitter and Facebook) hand painted this pink jewelry box with blackbirds ($27). While it's intended for jewelry (and could make a great home for your rings and things), it's also a great stash box for little items that have nowhere else to go. Above all, it will add fun color and design to your room.
Designer vintage pink
velvet pillow cover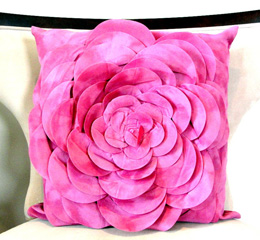 To add color and brightness to your sofa or an armchair, add this designer vintage pink velvet pillow cover ($25) by Etsy seller Modern Touch Designs (find her on Facebook). Made of 100 percent polyester, just zip it around an 18 x 18 pillow and voila! Instant color. It's lovely for Valentine's Day, but perfect all year-round.
More Etsy goodness
Etsy roundup: Glass vases
Etsy roundup: Handmade dog accessories
Etsy roundup: Winter wreaths