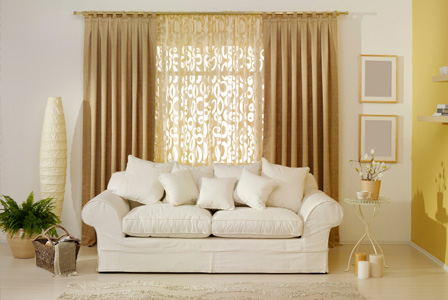 Welcome to Decorating Diva, where every week we share fresh, fun ways to update your home and spice up your living space!
Stay stylish, spend less
An economy that seems to be continually in a state of flux has brought out the penny-pincher in many of us. We're making different choices when it comes to fashion, food and home decor as a way to cut costs and save money -- but that doesn't mean you have to compromise on style. In fact, we've come up with a few design ideas that make budget sense -- and style sense.
Keep larger furniture neutral
By keeping the larger, more prominent pieces in your home neutral, it's much easier to refresh a room when and if you get bored with it. You might love red, but buying a red sofa means you're stuck with it, even when you want to update the room around it. If you have a big red sofa, there are only so many colors you can choose for paint and or to use to accessorize the room, boxing you into a certain aesthetic – unless you want to shell out the cash for a new couch. It's much more economical to put your money into a piece that will remain timeless no matter what other changes you make to a room.
Focus on locally made furniture and accessories
The shift towards local isn't just for foodies. Shopping local has become a trend that benefits both buyers and sellers, and we suggest seeing what you can find that's made close by. Local woodworkers, artisans and furniture makers are all creating stylish pieces that don't have to be shipped from hundreds of miles away (or more) to get to your living room. What began as a more affordable home decor option is becoming more and more popular regardless of budget. Whether it's a decorative fruit bowl or a dining room table, see what's being made in your own state, city or even neighborhood.
Accessorize with color
Refreshing your space without spending a fortune can be as easy as updating your accessories. Throw pillows, area rugs, vases – all of these items come in an endless array of colors and can often be purchased for very little. If you want to give any room in the house a new look, turn to affordable accents to get the job done. Stores like IKEA and Target always have a ton of bright, affordable accessories, or you can scour flea markets and garage sales for unique and noteworthy items to add to your home.
Focus on function
Something functional will, by definition, always have a use, making it a much more economical choice than something that just looks good. Trendy pieces come and go, and while there's always a place for them, it's much better to choose functional over frivolous when it comes to home decor. Putting your money into one sturdy, functional piece that will last and last is something people are doing more and more. It works from a budget perspective, but it also makes sense regardless of your bottom line.
Use multitasking pieces
Being on a budget means being selective about what you can buy. Do you go for the bookshelf or the end tables? The vanity or the coffee table? Rather than having to choose, buy something that has more than one use, such as a bed or coffee table that also contains ample storage space. The current trend is toward multifunctional furniture as something that will remain, even if it began as a choice made to cut costs.
Other stylish ways to save
Host a decor swap! See if your friends and family have quality items they no longer want. You can do the same. Meet at a central location or post photos of all available items online and see what's on offer. Everybody wins.
Find new places for old things. Sometimes simply moving an end table, piece of art or rug to a new location can spice things up.
Repaint a favorite stool or chair in a bold color to add interest to any room without spending more than the cost of paint.
Watch: How to paint furniture
Handpainted furniture can add personality and style to any room in your home. Whether you want to buy painted furniture or learn how to paint furniture, these tips will help.
More from Decorating Diva
Decorate like a celebrity
Putting a signature spin on your space
Creative uses for mason jars