Decor-friendly pet accessories
Welcome to Decorating Diva, where every week we share fresh, fun ways to update your home and spice up your living space! This week we're putting the focus on our furry friends. That's right – it's time for Fluffy and Fido to get the star treatment when it comes to accessories. Pet accessories, from bowls to toys to beds, can often be anything but stylish. This week we wanted to share a few you won't want to hide when guests arrive.
Stylish dog mats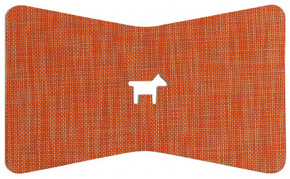 Some dogs manage to get more kibble on the kitchen floor than into their mouths. For the messier of our four-legged friends, we came across these chic mats you won't mind having in any room (chilewich.com, $35). The mats come in several stylish shades, including lemon, chestnut, lime and mango, and help keep bowls from slipping (and, ideally, reducing mess).
Kittypod couchette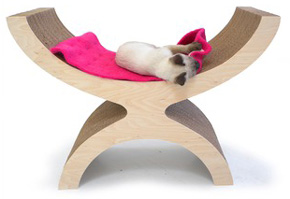 Cats love their comfort (what a hard life) but most cat beds don't exactly scream high style. That's why we were intrigued by this attractive double-sided chaise lounge with curved area atop for sleeping, nook in the bottom for hiding and lots of space for claw-sharpening (allmodern.com, $296).
Dog blanket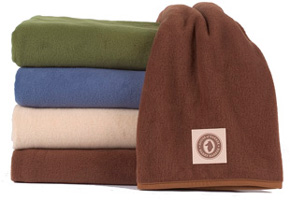 Whether you're in the car or on the couch, it's nice to have a space for your pup to curl up – without leaving dog hair behind. Rather than using an old blanket or towel, we suggest opting for one of these cozy fleece blankets made from 100 percent recycled material (harrybarker.com, $20 to $28). Choose from brown, beige, blue or green.
Covered cat bowl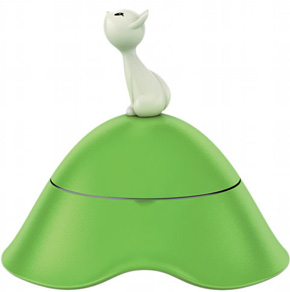 If the feline in your life has a habit of eating more than her fair share, put her food in this chic covered bowl and only lift the lid for feeding time (lumens.com, $70). The sleek bowl keeps food fresh while preventing overeating through the day and comes in red, green or black.
Food storage canisters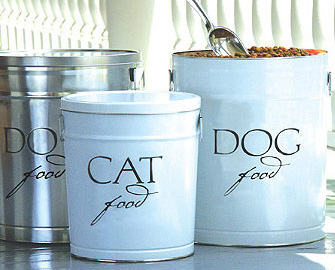 Let's face it, pet food bags aren't exactly lovely to look at. Stop hiding the kibble and instead store it in one of these pretty galvanized steel bins (frontgate.com, $45 to $60). We love the rustic look of the airtight canisters, each of which comes with a handy aluminum scoop.
Pet hammock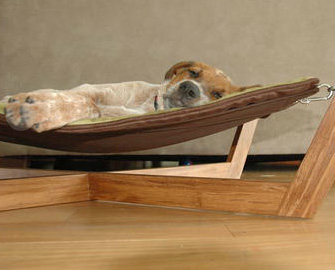 Gone are the days of ratty blankets and dusty pillows – today's cats and dogs have the option of much more elegant beds. Case in point: this on-trend pet hammock made from eco-friendly bamboo (petloungestudios.com, $170). A cozy cushion is stretched out and secured at all four corners and is washable and reversible.
Mod litter box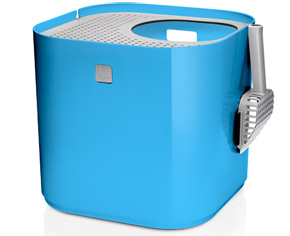 We never thought we would be able to refer to a litter box as stylish, but this ModKat Litter Box is just that (modkat.com, $180). Available in great colors – bright red, black, white, cream and turquoise – the unique design helps prevent mess (and keeps curious dogs out) while looking cool in your hallway.
Urban dog bowl
Trade unsightly plastic bowl
s for something much more eye-catching. We love these
raised white resin bowls
with wood-grain texture (velocityartanddesign.com, $67), which turn dog bowls into a kitchen accent we don't mind showing off.
Wall-mounted cat bed