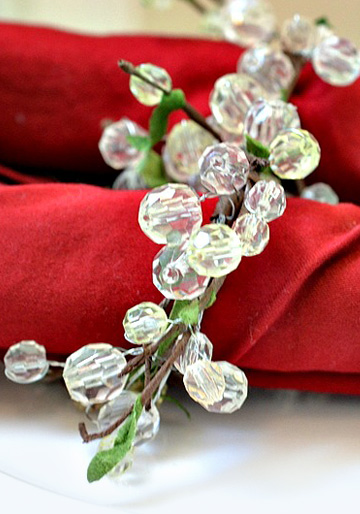 add glam to your plate
Once only used for formal dinner parties, weddings or banquets, napkin rings are quickly becoming as much of a staple at the dinner table as the napkin itself. Napkin rings are a great way to add flair to your tablescape without spending a fortune. These DIY napkin rings don't cost much to make and are absolutely gorgeous -- they're perfect for a sentimental gift or just to spruce up tired china!
With these tutorials, you can create beautiful beaded napkin rings and beautiful ribbon napkin rings with just a few materials.
A great thing about these DIY napkin rings is that you can make each one unique by choosing different colored beads, colored wire, fun patterned ribbon and embellishments, like glitter or felt. Add sparkle to your tablescape without spending a ton with this tutorial!
DIY beaded napkin rings
These beaded napkin rings are absolutely stunning and also make a great gift idea. Customize each placemat with different color, patterned and sized beads for a unique look.
Materials: 
1 x 2mm wire (any color)
About 30 to 50 beads (any color, different sizes)
Multi pliers
Paper towel tube
Directions: 
Wrap the 2mm wire around the tube several times to create a spiral. Remove the wire carefully so you don't bend the shape much. Bend one end of the wire with the pliers to create a small hook, which will allow you to thread the beads onto the wire.
Begin threading the beads through the wire until it's nearly full. Using the pliers, bend the wire again so that beads are closed in and won't fall off.
DIY ribbon napkin rings
These gorgeous and easy ribbon napkin rings are the perfect way to instantly add style to your tablescape without spending more than $10. Slide a simple flower, shell, small stalk of wheat or a leaf under the ribbon for a fun and seasonal placecard idea.
Materials: 
18- to 22-inch ribbon in your color of choice
Colored beads of choice
Directions: 
Trim the ends of the ribbon diagonally and wrap a length of the ribbon around a rolled napkin so the ends meet at the front.
Thread the ends of the ribbon through a bead and pull tight so that the bead is in the center of the napkin and the two ends hang loosely. To make the ends spiral, use scissor edges against the ribbon and pull towards you.
Lace button napkin rings
These adorable and fancy lace-patterned napkin rings are the perfect addition to any table and can be customized with any color of ribbon to fit any tablescape. These are great for weddings or bridal showers!
Materials:
About 1 yard of lace fabric, cut into quarter-inch pieces
Mini pearl buttons
Glue
Tube
Directions:
Wrap the lace tightly around the tube and pinch the ends together with your fingers. Cut off excess fabric (leaving about 1 to 2 centimeters overhang). Put a little glue on the back of the lace pattern that is overhanging and glue it over the top of the other end of the lace. Let dry completely.
Once dried, remove from tube. Put about 3 to 4 little glue dots on the seam of the lace. Place pearl buttons over the glue and let dry.
More DIY craft ideas
DIY painted stemware
DIY holiday mantel banner
How to make silhouette pictures