Original woodwork adds a unique touch to your home. Whether you have a specific item in mind or simply want something creative, Etsy is a great place to snag cool and creative woodwork pieces. We came across Mulberry Lane Folk Art, our featured seller in this week's Etsy roundup, and just loved the darling birdhouses. Jennifer Beers, who owns the Etsy shop,  isn't afraid to wield the serious power tools -- how can you not love a woman who knows her way around a workshop? You can also find Mulberry Lane Folk Art on Facebook and her blog, Mulberry Lane Folk Art.
Picket Fence
cottage birdhouse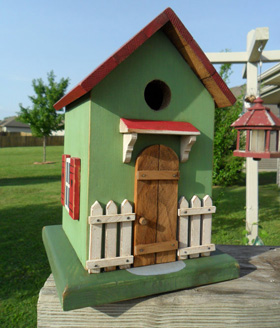 It was hard to choose just one, but this picket fence cottage birdhouse ($36) is pretty darn cute. The little cottage is painted vintage green with rustic red shutters, roof and awning over the door. The picket fence is the perfect finishing touch. After painting, the Etsy seller distressed and stained it for a timeworn look. As a genius touch, the bottom can be removed to clean after use.
Americana 4 star
checker board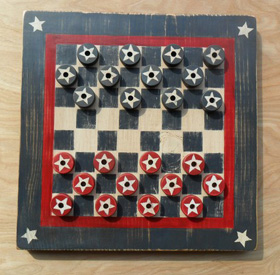 Serving as a functional and cool conversational coffee table piece, this Americana 4 star checker board ($43) is navy blue, rustic red and antique white. It includes a jute string of handpainted checkers that match perfectly. The Etsy seller gave the set a vintage look and finished with a handrubbed wax stain. As a bonus, the handmade wood checker board has a recessed hanger in the back that won't harm a table surface.
Valentine
wooden tray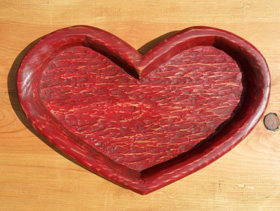 Valentine's Day is fast approaching, so it's time to begin thinking about how to bring the holiday of love into your home decor. This Valentine heart tray ($35) is one idea. The Etsy seller handcarved it from a pine board, painted it carriage red, distressed it and finished it with a handrubbed wax stain. You certainly won't find a V-day decoration like this at your local chain store!
Noah's Ark
wood toy set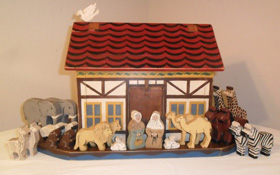 Move over, Playskool. Wood is in for kids' toys and this Etsy seller has created a great handmade Noah's ark wood toy set ($195). And while this is a toy, it could definitely be a display piece for the family with kids! It includes Noah and "Mrs. Noah," along with 10 sets of animals.
More Etsy goodness
Etsy roundup: Glass vases
Etsy roundup: Handmade dog accessories
Etsy roundup: Winter wreaths