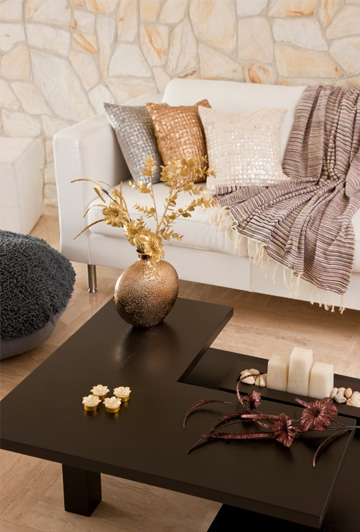 Low cost, high style
Welcome to Decorating Diva, where every week we share fresh, fun ways to update your home and spice up your living space! It might seem like decorating your home has to mean spending more than you'd like – and it often can. But there are some designer tips and tricks we love that save you time and money. Not everyone can afford to hire an expert but that doesn't mean we can't steal a few of their best design ideas!
To get a better idea of how to achieve designer style on a budget, we turned to Olga Adler, president and principal designer at Olga Adler Interiors in Fairfield County, Connecticut. She shared her top tips for creating a stylish space for less.
Create flow
A professionally designed space will usually have a nice flow, something that is easier than you think to achieve on your own. "Pick an accent color and run with it throughout the entire house for pillows, window treatments, rugs, accent walls, etc.," Adler advises. "It will lead the eye from room to room and create an instant sense of flow."
Play with texture
Texture has a way of making your space more interesting. Don't hide texture, show it off, Adler says. "If you have an exposed stone wall, brick wall, wood wall, leave it exposed. It tells your home's history and is its unique feature," she explains. A lot of people go out of their way to add these elements to their homes, so if yours has some natural eye-catching features, play them up!
Go big
Create drama with scale to give your home a designer look, Adler advises. Having one piece that draws the eye and anchors the room is a simple but effective way to create a more sophisticated space. "An oversized armoire, chair, table lamp or dramatic, large accessories can be a fantastic feature in an otherwise simple room," she says.
Opt for organic finishes
If you really want to take your home in a designer direction, think about adding some features in organic finishes. "Organic finishes create a serene, designer look," Adler says. "Grass cloth wallpaper, sisal rugs and bamboo floors are the best examples." Choose one and let it become the focal point of a room or allow it to dictate the decor direction that space will take and type of furniture and accessories to add.
Bring on the books
Books aren't just for reading. We all have towers of tomes piled on bookshelves and coffee tables, and Adler suggests putting them to work. "Use books for decorating. They can add color and texture to any room," She explains. You can also use them as accessories to add height. Place a table lamp or decorative item on a stack of books to add interest to any room, the designer suggests.
Add unusual elements
Often the most noteworthy pieces in your home don't come from generic stores. Give your space some serious high style by selectively placing unique pieces where people will see them. "Ethnic objects are instant conversation starters, even if you did not do the traveling yourself," Adler says. "Unique object hunting counts as much as travel stories." She suggests hunting for unusual items in your town or city. "You can find great pieces for very little money in just one weekend searching through local antique stores or flea markets."
Mix high and low style
Not every room needs to contain the best of everything to look like it's been given the designer treatment. Instead, mix it up, Adler advises. She suggests mixing high- and low-cost items to create an elegant but more affordable space. "A couple of more expensive pieces will make everything else look more high-end."
Play with pillows
Bored with your living room? Pillows are a fast, affordable way to add color, texture or simply refresh the space. "Beautiful pillows can change a room," says Adler. If you want to go the DIY route with pillows you already have, she suggests splurging on an expensive fabric you're crazy about. "You'll need only a yard per pillow, but each time you see those pillows you'll love the entire room."
More from Decorating Diva
5 Ways to brighten up your home this winter
Crushing on orange home accessories
8 Great ways to add art on a budget