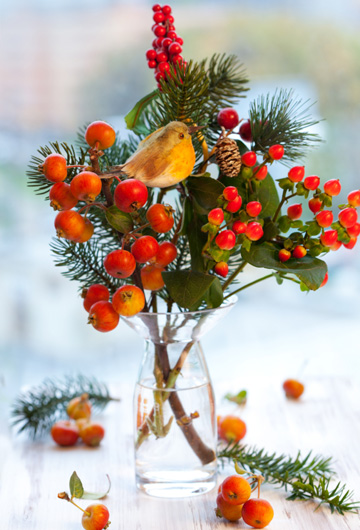 Time-
saving decor ideas
Welcome to Decorating Diva, where every week we share fresh, fun ways to update your home and spice up your living space! This week is all about getting your home ready for the holidays no matter how much you have on your to-do list. No time? No problem! We put together some simple decor ideas that look great but that won't take too much time away from all that shopping, baking, wrapping and hosting you have to do.
Joanne Palumbo is the owner of Homestyling101, LLC, a boutique interior decorating firm in Westchester, New York. Her goal is to find simplicity in the decorating process and she shares some of her best tips with the Decorating Diva. "Trying to get some holiday decorating done in a pinch? With just a few essential items, you can infuse your home with holiday cheer in just minutes -- and without breaking the bank," she tells us.
Enhance your artwork
Give your year-round artwork some holiday flair, Palumbo suggests. Take some brown craft paper from the dollar store (or you can use brown grocery bags turned inside out) and wrap some of your smaller framed pieces of artwork that are hanging in your main living spaces. "Decorate them like a gift box with any holiday trimmings you have on hand," she says. "Use some tied ribbon, twigs, berries and you've created your own gift-art."
DIY wreaths
Wreaths are a holiday must and a classic way to give your space a seasonal spin. "I love the look of wreaths hanging over mirrors. It just seems to add a simple twist of holiday charm to your year-round decor," says Palumbo. If you don't want to spend a lot of money on store-bought wreaths, making your own is a snap. Buy some foam wreath shapes at the craft store, use a little hot glue to affix some moss sheets and tie some beautiful ribbon atop, she explains. You can hang these holiday wreaths over any mirror, in the entryway, the dining room or even the bedrooms.
Decorate with candy
Candy makes a simple, ultra-fast and colorful way to decorate for the holidays. "A glass bowl filled with red and white peppermint candies, a julep cup with multi-colored candy canes or even a hurricane lined with red and green M&Ms make for some stunning decor," Palumbo says. "Candy is a great option to fill a space with color and graphic patterns. Your guests can indulge themselves a little, too!"
Use ribbon
You know that pretty grosgrain ribbon you coveted for your presents? Palumbo suggests using a little to decorate the base of your lamp. Start at the neck of the lamp (that is, the top of the base) and wind the ribbon from front to back similar to the way a ballerina laces ballet shoes up her legs, ending with a chic little bow at the base of the lamp. "This adds a bit of vertical interest against those decorations on the tabletop," she explains.
Bring the outside in
Give your home a holiday rustic touch this season. Using natural elements in your decor not only looks great, it's quick and easy to do. Collect some branches from outside, tie them loosely with holiday ribbon and stand them inside a beautiful pitcher, Palumbo advises. Or go even further by giving the branches themselves a festive touch. "If you really want to go DIY-crazy, you could even spray-paint the branches white or silver and hang mini-ornaments on them."
Make your candles pop
Everyone has candles on hand; take yours up a notch this Christmas. "Decorate the plain candles you already have on hand so they sparkle in their holiday best," says Palumbo. "You can use holiday ribbon or even cut strips from an old flannel shirt to give the candles a bit of color and holiday cheer." Tie the ribbon or fabric in a neat bow, or for a more clean-lined look, you can stick them on the candle with some double-sided tape. Once the holidays are over, you can remove the holiday flair and take your candles back to their pre-Christmas look.
Decorate your chandelier
Chandeliers are the perfect canvas for some extra holiday cheer. "Take beaded garland or a collection of ornament balls in the colors of your choice and decorate that focal point," Palumbo says. "Hang the ornaments at varied lengths to really excite the eye. Adding the extra sparkle to your year-round chandelier will bring a bit of excitement to your room and your dining table." The best part: You'll have an eye-catching holiday focal point in mere minutes.
More from Decorating Diva
Holiday decorating on a budget
Creating a festive home for the holidays
8 Ways to warm up your home this winter