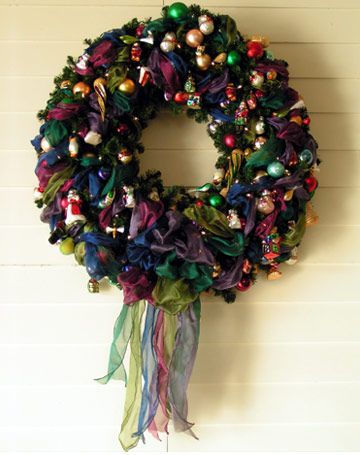 Save
money on seasonal decor
Welcome to Decorating Diva, where every week we share fresh, fun ways to update your home and spice up your living space! Holiday decorating can get expensive but it doesn't have to be.
There are many ways to put a seasonal spin on your home that don't mean spending lots of money. If you're worried about compromising on style, don't. We put together some expert tips for high-end holiday decorating on a low-end budget.
For the scoop on creating a festive space for less we turned to decor experts Nina Ferrer and Michael Moeller, hosts of the Style Network's Clean House: New York. We asked each host to share their own secrets for setting a stylish and festive scene – without breaking the bank.
Tips from Michael Moeller
Keep it simple
You don't need to go overboard with your decorating. "Spend your money wisely on a few great items rather than covering every surface of your home with trinkets and decorations," Moeller says. "Sometimes a beautiful centerpiece, a few candles and some garland can be just enough." He advises focusing on only a couple of surfaces (your mantel or a console table), and making your tree or menorah the focal point of the room. "Don't clutter the room with other stuff, it just distracts from the purposeful decor. "
Go old school
Create a holiday decor theme with a hand-crafted, historical approach to save money this year. "String cranberries and popcorn, fill baskets with seasonal produce, use burlap and brown craft paper on tabletops, cut your own snowflakes on white paper," Moeller says. But just be sure you do it with care and precision -- messy craftsmanship will show.
Re-use old decorations in a new way
Don't toss decor from years past; find new ways to use it rather than buying all new pieces.
Spray paint ornaments silver or white to bring new life and a monochromatic scheme to your tree.
Wrap old garland or adorn old wreaths with ornaments, fruit or lights to give them a new look.
Fill a clear glass vase with shards of broken glass ornaments and place a tea light in it to create a little sparkle in a dark corner.
Use food in your decor
"Let the food create an extravagant tablescape rather than spending a lot on decorations that just get removed when the food comes out," Moeller says. Set out beautiful platters and bowls full of starters or sweet treats, tie ribbons around the necks of wine or liquor bottles or serve well-plated entrees on brightly patterned dishes.
Tips from Nina Ferrer
Go big on your tree
There's no need to spend tons on money on decor if your tree is the star of the show. "I like to focus on my tree as the big wow moment," Ferrer says. She decorates with all white lights and ornaments so the tree really sparkles and makes a big statement in the room.
Incorporate old chandeliers
Creating an expensive-looking tree on a budget was as easy as buying an old crystal chandelier at a yard sale for $10. "I took all the crystals off and use them as ornaments on my tree," she tells us. "The look is expensive, and when the light shines through them it is magical."
Use real garlands
Forget faux -- real garlands are inexpensive and you can cover a lot of surface. "Draping garlands on the fireplace mantel, drapery rod or atop a sideboard is all you need," Ferrer says. "Throw in a few candles and you have a very upscale, expensive look for less."
Focus on fabric
Remnant fabric is cheap and versatile. You can drape festive fabric as a table runner, tablecloth or under a centerpiece, Ferrer advises. Cut along the edges for an unfinished look; or fold the edges and iron them or use double-sided tape for a more tailored look.
Large shiny ornaments
We all have a plethora of bigger baubles that don't all fit on the tree. Before you put them back in a box, think about using them as part of your decor. "They can be used in a bowl on your coffee table or as a centerpiece," Ferrer says. "Large ornaments are usually too large for the tree but make a big statement as a cluster around the home."
White lights indoors
Lights don't have to be reserved for the outdoors or your tree. If you have some left over after you've trimmed your tree, use them inside. Ferrer suggest wrapping lights along a stair railing, drapery rod or even a doorway. Says Ferrer: "When all the other lights in the house are turned off, the soft glow of the white lights create a great ambiance."
More from Decorating Diva
Creating a festive home for the holidays
8 Ways to warm up your home this winter
Hot holiday decorating trends
Photo credit: Mystyle.com