Too Cool
For School
Welcome to
Decorating Diva
, where every week we share fresh, fun ways to update your home and spice up your living space! Summer is coming to a close (admittedly much faster than we'd like) and the first day of school is looming ever-closer. Books, bags and binders may have been purchased but we're here to help you create an organized – and stylish – learning environment for any students in your life. Read on for great tips and product picks to help make this school year the best one yet.
(page 2 of 2)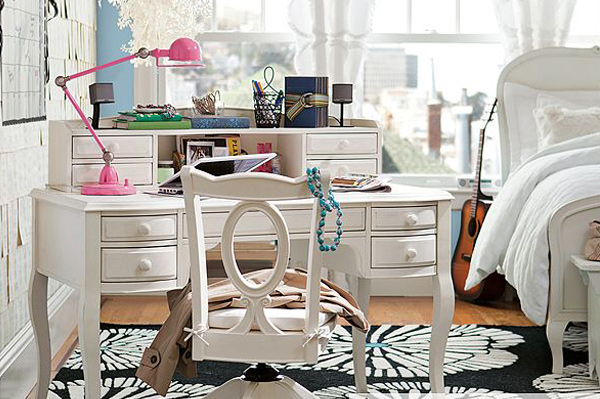 Student style: Bedroom décor tips
Less is more
Whether your kids are in middle school or high school, avoiding clutter is important for creating a space that's conducive to getting things done. The beginning of the school year is a great time to get rid of anything your kids no longer need (books from years past, old toys, clothes that no longer fit) so they can start with a clean slate. The less clutter there is, the easier it is to work productively (better for them) and the neater the room will look (better for you).
Say yes to storage
For the items kids do have, the first step in creating a homework-friendly zone (and a space that looks great) is to make sure there's plenty of space for storage. Books, notebooks, clothes and toys (if you've got younger kids) always seem to have a way of winding up on the floor, in a mountain of clutter. To help guard against an ever-growing pile of "stuff," invest in a floor-to-ceiling shelf with plenty of space for everything from books to electronics, storage boxes that stack easily and desk organizers for smaller items like pens, notebooks and USB keys.
Think neutral with pops of color
It may be tempting to give your kids free rein when it comes to paint color but we've all heard horror stories about black walls or a red ceiling (no accounting for tastes -- especially kids' tastes). Though it may seem like progressive parenting to let your offspring take the wheel where their rooms are concerned, it could likely spawn a décor disaster. Instead, paint the walls a neutral shade and offer them a choice of a few richer or brighter colors for an accent wall (purple, green, teal or even a richer shade of red work well). That way you're giving them a choice, but it's more controlled – and you won't end up with orange walls (Yikes!).
Student's choice: Accents
Just like offering the choice of accent wall color makes kids feel more involved, you can also encourage them to pick out some accents like throw pillows, a rug, lamp and desk accessories. This will help give the room a more playful, student-friendly look rather than have the space appear too grown-up with no sense of fun. It's a kids' or teen's room, after all, so it should reflect the age of the person who will be spending the most time there.
Ensure there's room to grow
If your kids are younger and won't be leaving the nest for college any time soon, the best décor choice you can make is to create a space that will stand the test of time. If your 8-year old wants an all-pink room (walls, duvet, accessories), chances are she'll outgrow her penchant for pink within the year. If you stay neutral (as outlined above) and let the kids choose their own accessories, the room has a much better chance of being timeless, rather than looking like a time capsule.
More from Decorating Diva
8 Great ways to add art on a budget
6 Ways to get a luxurious look for less
Crushing on orange home accessories