Stylish Ways To
Decorate Small Spaces
Across the nation, high school graduates are gearing up for their first semester of college. For many, moving away from home and into the dorms is one of the most exciting steps in this transition, and they can't wait to start decorating their new digs.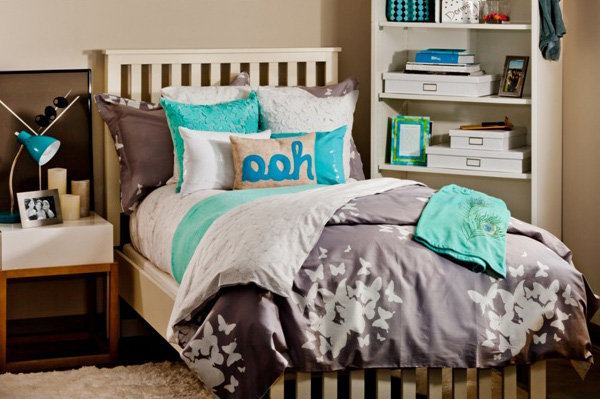 Here are a few tips college-bound students should keep in mind as they brainstorm décor ideas with their roommate and shop for everything from bedding and furniture to storage solutions and accessories.
Plan for minimal space
Dorm rooms are notorious for being small, and students never fail to bring entirely too much stuff. According to Sabrina Soto, Target's Home Style Expert, it's essential to keep things organized in tiny spaces. "Doing so will help make a room feel larger and can reduce stress levels. Sweater and shoe closet organizers are great solutions for keeping closets tidy and will allow space to tuck away books, workout gear or even an iPad," she explains.
Invest in functional furniture
Soto says another way to make the most of a small space is to opt for furniture that will serve more than one purpose. She notes that Target offers storage ottomans that can keep DVDs, linens and supplies out of sight, while serving as extra seating. "Most dorms are outfitted with the simple furniture pieces students will need, so I would focus on personalizing the space with colorful items for the closet, like bright and graphic storage bins, and desktop accessories that keep clutter at bay and out of sight," she adds.
Resist the temptation to be matchy-matchy with your roommate
Liz Billman, a style advisor for Dormify.com, encourages students to coordinate their bedding and colors rather than trying to match everything. "If your roommate wants a flower print, don't feel like you have to get one too. Pick a different graphic for your bedding and make sure it shows your personality. Mix and match with reversible duvet covers for a coordinating, but not matchy-matchy, look," she explains.
Hang a stylish mirror
What can students do to brighten a dark dorm room and make it look larger than it actually is? Billman says, "Place a mirror in your room where it can reflect light and a view. Finding a mirror that is in a shape other than a square is definitely a plus. You don't need anything else that looks like the square you are living in."
Adorn the room with a trendy wall decal
Many dorms have strict policies against placing holes in walls, which can limit students' ability to decorate them. To sidestep this dilemma, apply decals to the walls, which can be easily removed without causing damage to the wall or paint.
Soto says decals are also a great way to add color and character to bland concrete walls. "At Target I've found options that are chic, like a silhouetted chandelier with rhinestones and some great dry-erase decals in primary colors that you can use to leave reminders," she says.
Find creative ways to improve the room's lighting
According to Soto, lighting can instantly transform the mood of a dull room. She recommends hanging a paper lantern and says that not only will it add light and texture to the room, but it will also save space by eliminating the need for a bedside lamp.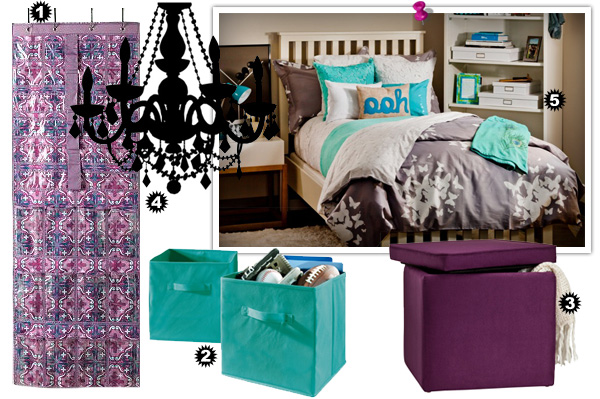 More dorm room décor and storage solutions
More tips for decorating dorm rooms
3 Dorm room design ideas
Top 10 must-haves for dorm living
Decorating your dorm room