Stylish Wedding
Gift Ideas
Welcome to
Decorating Diva
, where every week we share fresh, fun ways to update your home and spice up your living space! It's officially wedding season, and chances are you'll be attending your fair share of ceremonies this summer. Not only does a deluge of "I do's" mean buying a plethora of party frocks for the various nuptials you'll be witnessing, but it also means getting gifts for all the happy couples you know. To help make the present-buying process easier, we've put together a list of unique home décor wedding gifts sure to make any bride and groom swoon.
(page 2 of 2)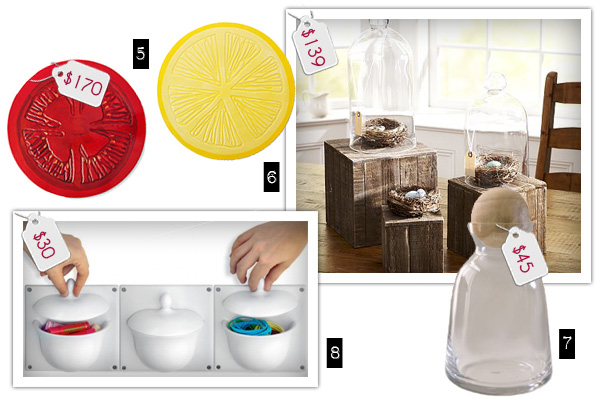 Lazy Susan fruit slices
Forgo the traditional serving trays that many a couple are gifted and opt for these handmade lazy Susans in the shape of ripe, colorful fruit slices (Uncommongoods.com, $170). Hand-carved of American maple and poplar wood, each piece is painted and finished with food-safe glaze for a luscious, almost edible sheen.
Wood risers
It can be hard to find unique wedding gifts that are also functional, so we were immediately enamored when we came across these rustic wood risers perfect for charming accent tables (Pottery Barn, $139 for set of three). The three sizes make it easy to create an artful display -- or they can be used throughout the house to add depth or display other decorative items.
Glass carafe
If you think all wine carafes are created equal, you haven't seen this decorative model with wood ball stopper (Haus Interior, $45). We love the distinctive shape, and the stopper allows the wine to aerate. Package this beauty up with some vintages you know the happy couple will enjoy.
Jar tiles
If you've got any couples prone to clutter on your list we suggest getting them several jar tiles (Yanko Design, $30 each) – wall-mounted tiles each featuring a half jar perfect for stowing small items like safety pins, elastics or even candies. Two or three together make for an eye-catching and useful home accessory.
We hope this injects some fun into wedding gift shopping and allows you to find the perfect present for all the happy couples on your list.
More from Decorating Diva
Home décor accents inspired by nature
Welcoming summer room by room
Embracing color this summer