7 Outdoor Ideas
For Summer DéCor
Whether you're planning a summer bash or just hoping to unwind with your favorite summer cocktail in your garden, get your backyard summer-ready with outdoor ideas that will make your neighbors green with envy. From stringing year-round decorations that foster a festive feeling to breezy outdoor curtains that give your patio a relaxing resort ambiance, these seven bangin' backyard makeovers for summer will have all your friends eager for your next outdoor soirée!
(page 2 of 2)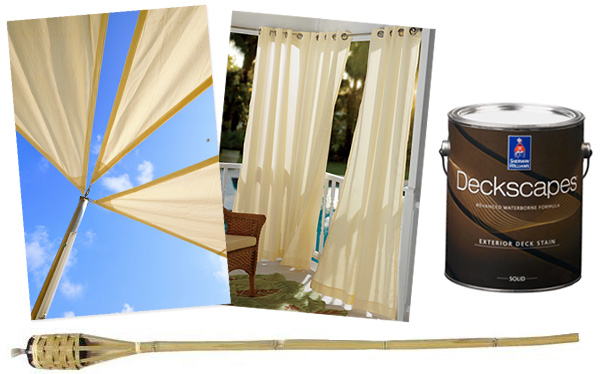 Cool off with shady outdoor ideas
Add shade and style to your outdoor space with an outdoor canopy. Instead of building to a pricey pergola, use a dropcloth fastened with grommets, wooden poles to hold it up, and tent ties and stakes to make sure it stays in place for a cool cover that you won't have to commit to once summer has breezed by.
Get your garden party-ready
Nothing says summer get-together like tiki torches, so stick them along garden paths and perimeters to ignite some party ambiance. Tip: Filling with citronella torch fuel will also keep uninvited bugs away at your next summer celebration.
Get tips on how to garden on a budget >>
Restain your deck
Bring out your deck's inner beauty with a new coat of stain. It'll not only extend the life of your surface, it'll make your whole backyard look like new. You can also give your deck a facelift by replacing planks, although this is a more costly option than new stain.
Give your patio a resort feel
Fasten fade-resistant curtains to your patio cover for breezy outdoor décor that gives you that relaxing resort feeling without having to leave the comforts of home. Don't forget to add potted palms for a true tropical retreat.
Now that you're done outside, tackle these 15 ways to refresh your home for summer >>
No matter how much effort you put into summer decorations for your patio and garden, an unkempt yard will toss your stylish outdoor ambiance right out the window. Be sure to keep lawn trimmed, gardens weeded, and tools and toys organized to let your bangin' backyard makeovers for summer shine!
More outdoor decor tips for summer
8 Fab garden accessories for summer
Creating outdoor entertaining space
Decorating Diva: Patio problems solved