Bring The
Outdoors In
Welcome to
Decorating Diva
, where every week we share fresh, fun ways to update your home and spice up your living space! With everything in full bloom, from flowers to fruit to blossoming trees, it's not surprising that when we're forced to be indoors, we want to bring the glory of the great outdoors with us. So what's a summer-loving decorating diva to do? That's easy -- stock up on gorgeous home accents inspired by nature. Check out some of the fresh and fabulous pieces we found.
(page 2 of 2)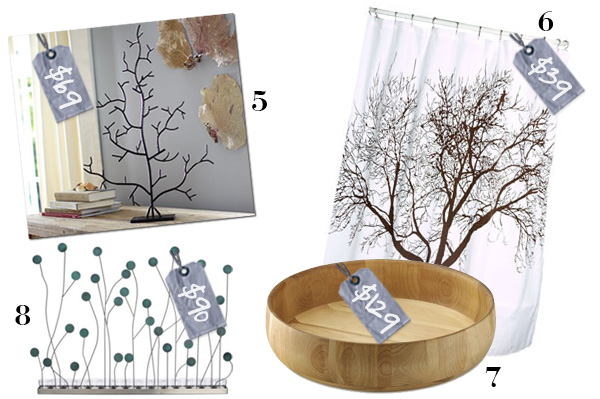 Metal coral sculpture
If you've ever taken a close look at coral you know it's one of the most decorative items found in nature. That's why this ornate metal sculpture (Pottery Barn, $69) caught our eye. Not only will it add height and dimension to any surface, this decorative piece can easily stand alone as a statement accent.
Tree shower curtain
If you're stuck indoors when you're rather be reveling in nature, you might as well feel like you have the tall trees at your fingertips. And with this ultra-cute shower curtain (Urban Outfitters, $39), you can feel like you're soaping up in the great outdoors. We love the stylish contrast of chocolate brown on white.
Birch salad bowl
Serve up some of summer's bounty in this sleek birch salad bowl (Williams Sonoma, $129), a handcrafted piece made from North American yellow birch. The tasteful bowl will look great filled to the brim with farmer's market favorites and will add a touch of the outdoors to your next indoor gathering. When not in use, fill with fresh fruit to add color and make it easy to grab a healthy snack.
Sprout art
Add a quirky, modern element to your living space with this distinctive piece of wall art (CB2, $90). Twenty-three brass stems sprout from the steel planter -- and the best part is you can arrange the blooms any way you please. This interactive home accent can be mounted on the wall or used as an eye-catching centerpiece. The artist has provided a numbered plan but we like creating our own design.
More from Decorating Diva
Beach-inspired home decor
Embracing color this summer
Summer-ize your kitchen with fun home accents