Great Garden Accents
It's not just your patio or home that can use some added accoutrements – why not give your garden some added style with eye-catching garden accents? We've scoured the web to come up with some great ways to make your green space really stand out this summer.
(page 2 of 2)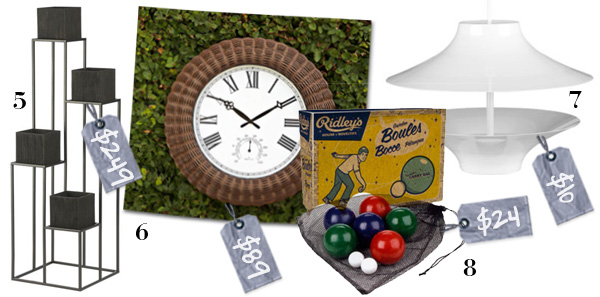 Plant stand
This striking geometric steel stand (Crate & Barrel, $249) features four planters on varying levels creating an eye-catching, architectural display no matter where you place it. We suggest planting it with cascading plants (sweet potato vine, creeping jenny) to create a gorgeous green waterfall effect.
Outdoor clock
Sure, everyone has smartphones to let them know what time it is, but we say why not do things the old-fashioned way when you're outside, with this stylish outdoor clock (Pottery Barn, $89)? This all-weather wicker timepiece will add a dose of rustic charm to your space and tells both time and temperature.
Bird feeder
Invite some new feathered friends into your yard this summer. Hanging this chic feeder in your garden (CB2, $10) will not only look great, you'll be able to check in with any frequent fliers that come around. We love the minimalist design and modern look of this pretty outdoor accent.
Bocce set
While not necessarily a garden accessory, this backyard bocce set in a retro-styled box (Anthropologie, $24) will surely make any time you spend in the yard more fun. Bust out this timeless favorite any time you have guests or simple play as a family – loser has to do the dishes! Plus the box is so cute we're happy to display it.
More outdoor living tips
Backyard decor for small spaces
5 Plants for small outdoor spaces
10 Must-have summer party accessories