Sexed-Up
Sleeping Space
Do you have to navigate over piles of clothes, children's toys and laundry hampers to even get close to your bed? When you finally find the bed is it covered in a series of mismatched blankets and threadbare sheets? Many of us are guilty of neglecting our bedroom in favor of spending more time and effort ensuring every other room is organized and well-decorated, but a messy, disorganized bedroom is not sexy. That's right, ladies, from stripper poles to sexy décor, it's time to sex up your sleeping space and we're here to show you how.
(page 2 of 2)
Sexy bedroom décor
Once you're finished with the basics it's time to decorate your newly de-cluttered, trinket-free space. The key to a sexy bedroom is to keep things simple, but sensual. We have a few easy, affordable ways to do this.
Fresh flowers
One of the best ways to add both color and sex appeal to your bedroom is with fresh-cut flowers. Several small glass vases filled with your favorite blooms looks chic and won't add clutter, which, as we've mentioned, seriously detracts from the sexiness of a space. Note: Do not let the flowers wither and die because dead flowers are depressing, not sexy.
Warm tones
Warm, earthy tones like ochre, plum, burgundy and charcoal grey are all sensual and easy to work with. Think about getting a duvet cover or comforter in one of the above shades, then brightening it up with pillows in lighter, fresher colors. A busy bedspread featuring too many shapes, colors or odd patterns can be too distracting and take away from your bedroom's overall sexiness.
Relaxing scents
Feeling sexy means feeling relaxed, so having some scented candles on hand (ideally naturally scented versus overly perfumed) is a great way to set the mood and keep the space smelling as sexy as it looks.
Say yes to a stripper pole
If you really want to get sexy, the trend of installing a stripper pole at home has been steadily gaining ground over the past few years. Kim Kardashian has one, as do Paris Hilton, Carmen Electra, Pamela Anderson, Kate Hudson and Jessica Alba, just to name a few pole-happy celebrities. Not only is a stripper pole a very sexy addition to your bedroom, pole dancing is also great exercise (for your core and upper body especially).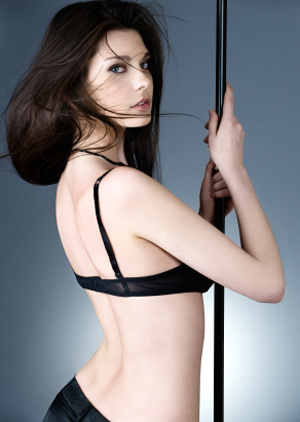 Our top pick for at-home stripper poles is Lil' Mynx. They sell removable poles (starting at $199), which make it easy to only have your pole out when you want to use it. They are adjustable and come in either powder finish (good for posing and climbing due to the non-slip grip) or stainless steel (slippery and better for spins and other fancy moves you might want to try). The powder-finish poles come in red, black or pink.

Peekaboo Pole Dancing also offer portable, removable poles starting at around $100. Depending on where you purchase your pole, installation will be different. Be sure to read the instructions provided to ensure you've safely installed your pole and that you don't damage the ceiling or floor.

Before you grab the pole and start spinning, it's a good idea to take a few lessons. Check your local listings for gyms that have pole dancing classes, pole dancing schools or dance schools that teach pole dancing such as Body & Pole in New York, Allure Dance and Fitness Studio in Los Angeles, Flirty Girl Fitness in Chicago or Pole Divas with locations in Phoenix, the greater Olympia, Washington, area and Portland, Oregon.
What to expect
Pole dancing is harder than it looks, but a good introductory class will set you up with all the basics, from sliding sexily down the pole to the steps you need to take to properly spin around the pole so it looks effortless, not painful and awkward. You'll work your shoulders and biceps, and need to rely heavily on your core muscles to keep you stabilized, so expect a good ab workout. Having a stripper pole in your bedroom is a fun and exciting way to add a unique twist to your sex life and have lots more fun in the bedroom. Happy spinning!
Pole dancing for beginners
Watch this video to learn the basic techniques involved in pole dance fitness.
More home dÉcor tips
Decorating with the stuff guys love
Decorating tips for moving in together
10 Bright and budget-friendly bedroom decorating ideas