Create A Baby-Safe Bathroom
For an exploring infant or a curious toddler, the bathroom is a magical place, full of hands-on opportunities -- and danger. Read our bathroom baby-proofing tips to make your bathroom a safe place for your baby or toddler.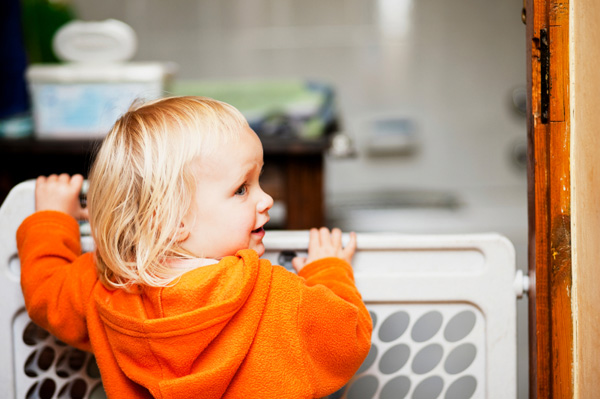 Your bathroom is like another playroom for your child -- only it presents many hazards that can seriously injure a baby or toddler. Take a few hours to baby-proof your bathroom and prevent a dangerous situation from occurring.
Judith Schuler, co-author of Your Pregnancy Week by Week, walks us through baby-proofing the bathroom. Keep reading for tips on how to create a baby-safe bathroom.
Appliances
As with the kitchen, your bathroom is probably brimming with dangerous appliances that could seriously injure your child. Look around and take stock. Do you have any of the following: Curling irons, flat irons, blow dryers, electric razors or electric toothbrushes?
Read up on how to protect your child from electrical hazards >>
Curling irons and flat irons can obviously be hot, but "anything that is plugged in, even if it's switched off, could be dropped in the sink or the tub and cause electrocution," explains Schuler. Unplug everything you can and keep the rest pushed to the back of the counter and out of your baby's reach.
Toilet locks
While some children never even notice the toilet, others are fascinated. Toilet locks are functional -- even if they are a pain -- for keeping your baby from tipping over head first into the toilet. In addition, Schuler points out that toilet locks are particularly useful for keeping water-happy toddlers out of the potty, which they sometimes view as their own indoor water table.
Don't miss water safety to learn how to prevent drownings >>
Schuler has a great tip for parents of older toddlers: Always keep your toilet clean. You never know what you'll have to fish out of there, and if your child does get into the toilet for some fountain fun, at least you'll know the toilet is as clean as possible!
Trash
Your bathroom trash might double as a small container of hazards, warns Schuler. Think about the things you throw away -- used razors, Q-tips, floss. ... Common, everyday garbage can injure a curious crawler or toddler. And unlike the kitchen trash, a bathroom garbage container is small and kept out in the open. Find a place that is out of reach, keep it under a locked cabinet or eliminate it altogether and trek your bathroom trash to the kitchen.
Bath safety
First, Schuler reminds parents to adjust your water heater temperature. Water should be set to 120 degrees and no higher. At this temperature, Schuler explains,  tests have shown that water has a lesser possibility of causing scalding and serious burn injuries.
Bathtubs should also have nonslip rubber mats or appliques at the base. Outside of the tub, ensure you have a nonslip floor mat so that you don't slip in a puddle while you're holding your little one after a bath.
Read more about kids and bath safety >>
Schuler reminds parents, "Never leave your baby alone in the tub for any length of time -- not even a second. Babies can drown in one inch of water very quickly. Nothing is as important as your baby. Everything else pales in comparison."
Small but serious dangers
Small items can be the most dangerous. Schuler reminds you not to forget the following when baby-proofing your bathroom:
Medication: All medication, both prescription and over-the-counter, including vitamins, should have child-proof tops and be up and well out of your child's reach. In fact, it's best to keep it in a locked (and high) cabinet
Cosmetics: Makeup is fun for babies and toddlers. It's like a better version of crayons -- only it's probably not quite as non-toxic. "If you read the ingredients on many cosmetics items, they're not things you want your kids to eat!" says Schuler.
Shampoo, conditioner, body wash, etc.: You probably use a tear-free shampoo and body wash on your child, who will learn that having it in his eyes isn't a big deal. The last thing you want is for your child to dump a bottle of your shampoo on her head. Ensure that these items are stored in locked cabinets or high in the shower, out of your child's reach.
More baby-proofing tips
12 Ways to prepare your home for your new baby
30 Ways to baby-proof your home
Baby-proof correctly for more mama free-time