Go Bold
Or Go Home
Welcome to
Decorating Diva
, where every week we share fresh, fun ways to update your home and spice up your living space! While colder months are all about warm tones and tried-and-true neutrals, summer lends itself much more to breezy brights. Fresh fruit, icy cocktails, super-cute sundresses – everything about summer is bursting with a rainbow of fabulous hues. So what better time than as the temperatures rise to embrace your favorite stunning shades? We hereby declare this the summer of color! Check out our fun picks for bold home accents and give every room a colorful boost.
(page 2 of 2)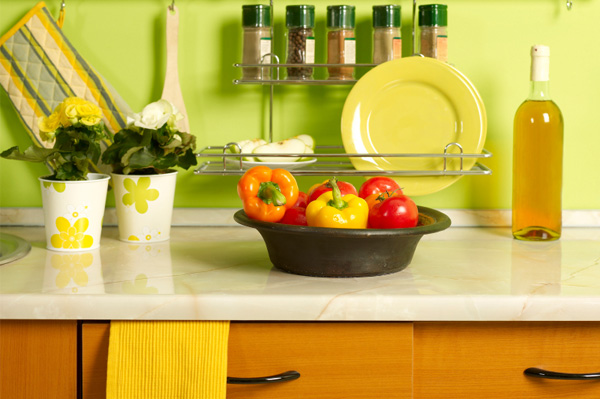 Easy DIY ways to add color
Aside from a home-accent shopping spree (one of our fave ways to spend the day), there are lots of simple DIY ways to brighten up your home.
Focus on flowers
Flowers are a great way to add more color to any room in the house -- and what better time than summer when everything is in bloom? The floral trend for summer is simple and monochromatic, explains floral designer Kenji Takenaka of Noir Hanna International. He advises always using seasonal and local flowers when choosing your blooms -- and if you're still stumped about what to choose, Takenaka says: "Pick out one color from what you see in a room, whether it's fabric, wallpaper or furniture, and use that as the color of your flowers."
Use what's fresh
Takenaka also suggests using lots of herbs, fruit or even vegetables to brighten up your space this summer. White serving platters or large glass bowls are great for displaying your homegrown or farmer's market wares, and small pots planted with fresh herbs add a fragrant element to the room.
| | |
| --- | --- |
| | You can even think about adding sprigs of fresh herbs to your flower arrangements for added texture and scent. |
Add an accent wall
There's no need to repaint the whole house a bold shade for summer. Instead, pick out one wall in any room you like and give it a fresh coat in a vibrant hue. There's nothing like walking into a room and getting an eyeful of whatever shade makes you think of summer. We're partial to raspberry or lemon, but go nuts! You can always paint over it if you don't love it come fall.
Spice up old items
Before you toss out that old end table, give it a new coat of paint. Make your castoffs the star of the show by painting them in bright colors like turquoise, honeysuckle or lavender.
Here's to a fun -- and colorful -- summer!
More from Decorating Diva
Beach-inspired home decor
Travel-inspired home decor
Summer-ize your kitchen with fun home accents