Ocean-Inspired
Home Accents
Welcome to
Decorating Diva
, where every week we share fresh, fun ways to update your home and spice up your living space! When we think of summer, the first thing that comes to mind (other than barbecues and patio parties) is the beach. What better way to while away the long, gorgeous days than by lounging by the water, book in hand (or in our case, celebrity gossip magazine), enjoying the sunshine? With that in mind, we wanted to bring some of the beach home, in the form of stylish, sea-inspired home accents.
(page 2 of 2)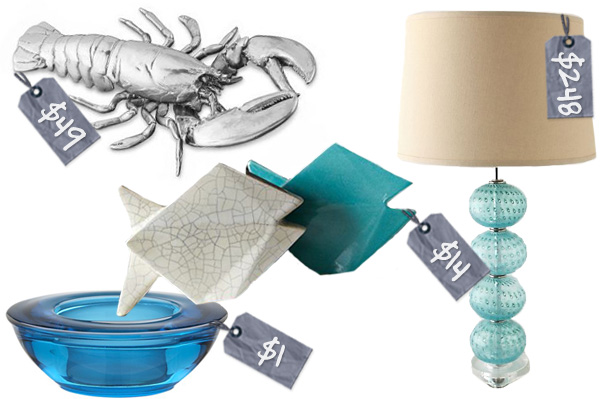 Silver sea critters
Lobsters, crabs ... no, we're not talking about a seafood feast (though that would be delicious), we're referring to these kitschy yet stylish silver sea critters (Williams Sonoma, $19-$49), perfect for adding beach-inspired charm to a bookshelf or coffee table.
Undersea lamp
Add a beachside vibe to your work desk or end table with this ornate lamp (Anthropologie, $248), featuring hand-blown glass droplets in a watery shade of blue. We love the whimsical design and pretty, ocean-inspired hue, perfect for bringing the beach into any room in the house.
Candleholders
Stock up on several of these cute turquoise tea-light holders (Crate & Barrel, $1) and line them up on a windowsill or across your coffee table for easy, beach-going style at home. Or mix things up by getting some in cobalt and lime, a subtle shade of green, and alternating each of the seascape-inspired shades.
Origami fish
We couldn't resist these fabulous origami-inspired earthenware fish (West Elm, $14), available in white or turquoise. Get one for your desk or pick up several and display a whole school of these summery decorative accents on your coffee table or mantle.
Here's to a fabulous summer filled with beach days - and beach-inspired decor!
More from Decorating Diva
Summer-ize your kitchen with fun home accents
Travel-inspired home decor
Memorial Day decor and DIY ideas