Memorial Day
Decor Ideas
Welcome to
Decorating Diva
, where every week we share fresh, fun ways to update your home and spice up your living space! The last Monday in May (the 30th) is Memorial Day, which for many people (including us) marks the beginning of the summer entertaining season! Whether you're having a full-on Memorial Day weekend bash or just a small gathering, check out our guide for easy patio party décor and DIY ideas for a memorable mixer.
(page 2 of 2)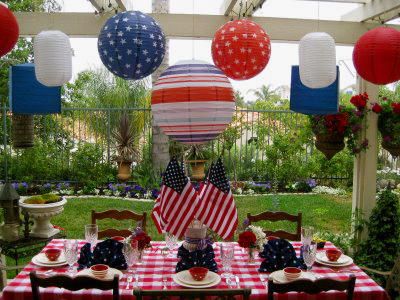 DIY dÉcor ideas
Try these simple DIY ideas to add even more Memorial Day charm to your space and give your yard a cheerful atmosphere for parties and picnics.
Star banner
Create a simple and celebratory star banner by cutting out five-point stars from red and blue tagboard (available at most craft and art supply stores). Go one step further and add some sparkle to your stars with glitter glue. Let dry and attach a grommet to the top point of each star, then string onto lengths of ribbon. Hang your star banner from nails or hooks, indoors or above your patio table.
Red and white centerpiece
This centerpiece idea is patriotic, and it takes no time to create. Take a large glass vase (rectangular or round is fine) and fill roughly one-quarter full with small red pebbles, beads or sand (all available at most craft stores). Nestle a white tea light in a votive holder among the red vase filler and finish off your centerpiece with two or three small white stars cut from tagboard and placed in the vase. Create several and place them along the length of the table.
Stylish stripes
Red, white and blue elastics can be easily transformed into a stylish Memorial Day decoration. Simply pick up some of the aforementioned rubber bands from an office supply store (or scour your desk at work) and wrap them around straight glass candle holders or jars in alternating colors. Add a tea light and voila – pretty, patriotic candle holders perfect for the patio. You can achieve a similar effect using alternating lengths of blue, red and white ribbon, but getting everything straight can be more time-consuming.
Pretty pinwheels
Head to your local party supply store and pick up some pinwheels in shades of red, white and blue, or if you can find them, in a stars-and-stripes motif -- then use them to add pops of patriotic color to your home. Fill large pails or pots with sand and create small groupings of pinwheels around your yard and on your front porch as a cheerful welcome for guests.

Other fun DIY ideas

Candy bar: Fill small to medium glass dishes with red and blue striped candies or create groupings of glass jars in different sizes for an interesting display. Provide spoons for guests to access the sweet treats.

Patriotic pots: Transplant potted plants into red, white and blue containers. Better yet, paint some pots you already have.

Flag waving: Add a few tiny flags to bouquets of white flowers -- or top burgers and cupcakes with flags for extra festive charm.

Red and blue: Red blooms in blue glass bottles or vases make for a pretty addition to any table.

Star stickers: Print stars onto sticker paper (available at most craft stores) and adorn a red or blue table runner or tablecloth with white sticker stars. Better yet, get the kids to decorate for you!
Photo credit: Janie Gore, Janie's World
More from Decorating Diva
Summer-ize your kitchen with fun home accents
Going gaga for green home design
Royally ravishing decor fit for a princess