Summer
Style Indoors
Welcome to
Decorating Diva
, where every week we share fresh, fun ways to update your home and spice up your living space! If your home is anything like ours, when it comes to entertaining, guests seem to congregate in the kitchen no matter the season. As summer creeps ever closer and we ramp up for a season of non-stop BBQs and patio parties, we thought it would be a good idea to bring a little summer inside. Because let's face it, even though the party's outside, some guests will always end up in the kitchen.
(page 2 of 2)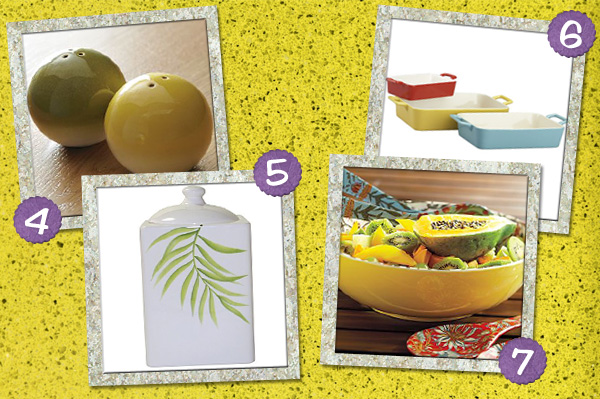 Not your standard shakers
Add a splash of sunny color to your kitchen table with these pretty stoneware salt and pepper shakers from West Elm ($12). We love the citrus-inspired green and yellow hue (salt shaker is yellow, pepper is green) and simple spherical design.
Bamboo leaf canister
Store cookies, rice, pasta or anything else you want to keep close at hand in this breezy canister from JC Penney ($30) adorned with a single bamboo leaf design. This decorative and functional piece will look beautiful on your counter or table and adds a dose of summer to your kitchen.
Brightened-up baking
This three-piece set of brightly colored baking dishes from Crate & Barrel ($30) will look just as fabulous on your countertop as they do coming out of the oven with something delicious. The blue, yellow and red dishes have white interiors and nest inside one another for easy storage.
Serve in style
When you're not using this cheerful yellow serving bowl from Pottery Barn ($29) to serve salad or other side dishes, use it to add a pop of eye-catching color to your kitchen. Better yet, fill it with bright red apples or golden peaches to further bring summer into your space.
More tips to create a summer-friendly kitchen
Stock up on seating: If you know guests will be hovering around as you work, make sure you have enough seating. Think about having a few extra folding chairs on standby for any guests who want to socialize while you stir. We like these basic but cute chairs from IKEA ($15).
Easy-access beverages: It's a good idea to have a drink dispenser filled with your favorite summer beverage both inside and out while entertaining. That way, when you're inside, whoever stays outdoors can serve themselves, and whoever comes in has a convenient drink option, too.
Add flowers: Fresh-cut flowers are a no-brainer when it comes to adding a splash of summer to your kitchen. A large vase full of your favorite blooms on the table, along with groupings of smaller vases along the counter, go a long way to freshen up the room.
More from Decorating Diva
Royally ravishing decor fir for a princess
Going gaga for green home design
Easter-inspired decor