Supplies For The
Stylish Entertainer
A fabulous-looking party doesn't need to be staged in an overpriced venue. If you have the right décor and accessories, elegant entertaining can be done in the comfort of your own home.
(page 2 of 2)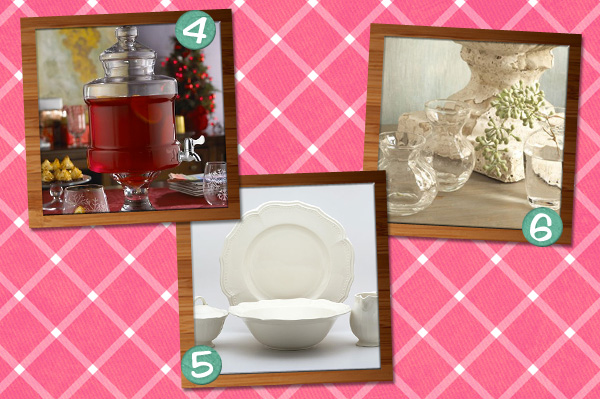 A beverage dispenser
If you're going to go through the trouble of concocting a party punch, make sure it looks as fabulous as it tastes. Most glass beverage dispensers hold more ounces than cheap plastic containers and they offer a much more attractive presentation.
When you're ready to invest in this accessory, check out the pedestal beverage dispenser from Wine Enthusiast. According to Sybil Strum, the CEO and co-founder of Wine Enthusiast, "It's a beautiful addition to any tablescape and it takes some unnecessary stress off the bustling hostess. Additionally, cleanup is a cinch without those messy pitchers, punch bowls or drips."
White serveware
If you've ever visited the Celebrations at Home blog, you've probably noticed that owner Chris Nease has a special gift for designing spectacular parties. Which items have made her list of must-have products for home entertaining? White serveware!
"I love collecting unique items for entertaining, but have some basic items that I use over and over again. A set of white dinner plates and other white serving pieces have been a great investment at about $1 to $3 per piece. They can be used for any occasion, whether casual or more formal, and are basic pieces that allow you to dress your table in any color, theme or style," she explains.
Bud vases
"Bud vases are also a great thing to have, as you can create quite an impact by lining up several of them on the table to create a long centerpiece of flowers," adds Nease. "The nice thing is you only need one or two stems for each bud vase, which can save you money over a large flower arrangement."
You can always collect more items, but these accessories are some of the first things you'll want to invest in for stylish entertaining at home.
More on home entertaining
8 Quick steps to get your house ready for entertaining
22 Tips for entertaining in a small space
Expert lighting tips for entertaining