Patio Party
Essentials
One of the best (and most fun) aspects of summer is outdoor entertaining. Good friends, delicious food (hello, BBQ!) and cool drinks in the backyard make for the quintessential warm-weather activity. To help get your patio ready for a plethora of outdoor parties, we've put together a list of our top picks for the freshest, most stylish summer accessories to take your next soiree, from fun all the way to fabulous.
(page 2 of 2)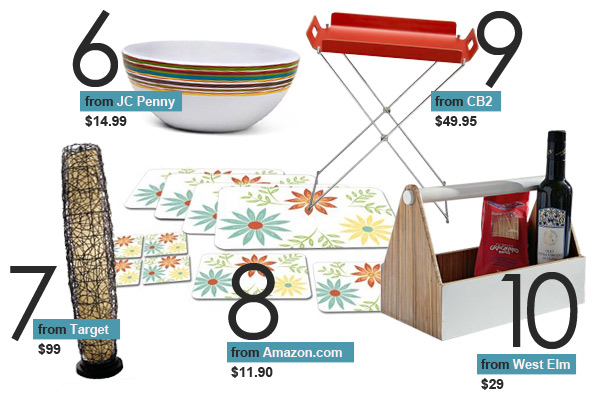 Serving in stripes
Brighten up everything you serve this summer with this stylish striped bowl from JC Penney ($14.99). Perfect for anything from pasta salad to potato chips, this lively bowl is also scratch-resistant and dishwasher-safe.
Light it up
No one has to fumble in the dark with this ornate outdoor floor lamp from Target ($99.99). The simple, rustic design makes it a great addition to your outdoor entertaining decor, and the neutral color means it goes with everything.
Pretty placemats
Impress guests and make sure your table stays stain-free with these cute floral placemats from Amazon.com ($11.90). We love the fresh, fun design and the fact that they're reversible for added value.
Add extra space
Add more space for drinks or plates with one (or a few) of these bright orange tray tables from CB2 ($49.95). They can be used both outdoors and in the house but we prefer them as a lively and functional addition to the backyard.
Beautiful bamboo
Keep napkins, condiments and other table essentials together and easily accessible with this sleek bamboo and lacquer caddy from West Elm ($29). The minimalist design makes it a stylish addition to any contemporary patio table.
Have a blast entertaining this summer!
Summer party recipe

How to make a frozen margarita
Thanks to those pre-mixed drinks pumped out of machines at Mexican restaurant chains, the frozen margarita has gained a reputation as the Slurpee of cocktails. But the real thing will have you singing along with the mariachi band in no time!
More patio essentials
Inexpensive ways to decorate your patio
Backyard decor for small spaces
Get your backyard ready for spring