Spend A Little
To Get A Lot
You don't have to spend big bucks on Mother's Day to show Mom how much she means. There's something here for every Mom, all for under $25 each.
(page 2 of 2)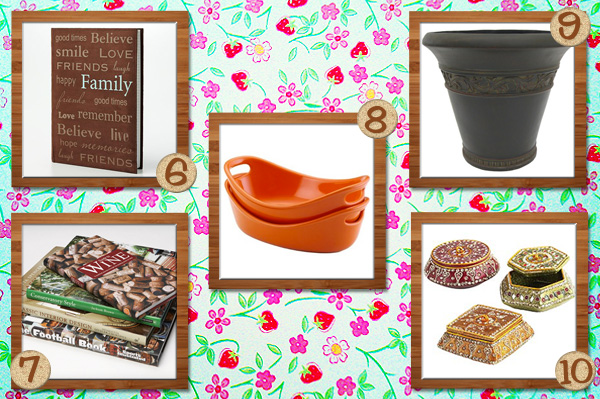 For a mom who snaps pictures
Mom can keep up to 300 of her favorite snapshots inside this family photo album from Kohl's. For an extra special surprise, fill the first few pages yourself and write fun memories beside each photo.
For a mom who loves to read
Is your Mom a book worm? Check out the selection of books at HomeGoods for several picks Mom would love to get lost in. The prices are so low, you'll be able to pick out a few.
For a mom who loves to bake
These Rachael Ray au gratin dishes are the perfect gift for a mom who likes to spend time in the kitchen. The fun orange color is perfect for spring, and the price, $19.99 at Target.com, is perfect for your wallet.
For a mom who gardens
This 15-inch planter will add a touch of glass to any porch or patio. Give it to her empty and let her choose what goes inside, or plant her favorite greenery inside and save her the work. Find it at Lowes.com for just $22.02.
Tips for the stylish indoor gardener >>
For a mom who likes a little bling
These lacquered jewelry boxes from Pier1.com are great for Mom to store jewelry or tiny trinkets. At just $12.95, you can afford to get her more than one!
More Mother's Day fun on SheKnows
Simple Mother's Day breakfast in bed
Budget-friendly Mother's Day gift ideas
5 Creative ways to surprise Mom on Mother's Day