How To Design
A Learning Space
Enhance your children's learning by providing them with an environment that makes learning fun. We spoke with Cortney Novogratz of HGTV's Home by Novogratz about how parents can make their children's bedrooms more conducive to learning and the kid-friendly decorating and design strategies she used at Winegard Elementary School in Orlando, Florida. Winegard was the grand-prize winner of Bounty's We Love Our School sweepstakes and received a school makeover designed by Cortney and her husband Robert Novogratz.
(page 2 of 2)
Design tips for your children's bedroom to make learning fun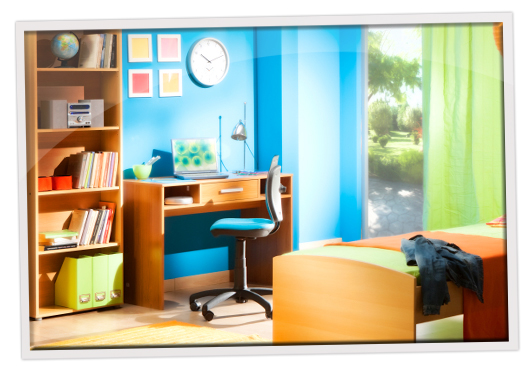 Whether you homeschool or simply want to extend your child's learning from the classroom to home, here are Novogratz's decorating tips to make learning fun for your child.
Color, color and color
Novogratz recommends making your child's bedroom colorful as a way to spark creativity. "Expose children to tons of color in their bedrooms, from artsy chairs to different colors on walls and doors to graphics on the walls," she says. "Colors strike the imagination and keep kids thinking." However, make sure the colors are complementary so they aren't a source of distraction.
Decorate with timeless art
Instead of designing your child's room around her age, think ahead and include timeless décor, such as stenciled names of musicians or artists throughout history (this was part of Novogratz's makeover for Winegard's music room) that will be stylish and educational as she gets older. "Not everything needs to be catered to the child's age because kids grow quickly and young décor will become outdated," says Novogratz.
Be original
"It's hard to be original because we are all shopping at the same places," says the design expert. But with a little creative thinking, you can make your child's room unique and give her examples of thinking outside the box. Novogratz suggests custom-made neon signs that say "Family, Hope, Love" or graphics that reflect the interests of your child, such as music, science, animals, etc.
Make your child's room adult-friendly

You play a role in your child's learning, especially if you homeschool, and her bedroom should be welcoming to you so you actually want to spend time in there to help your child with lesson plans or homework. "Furnish your child's room with a chair that is comfortable for you, so you feel welcome and want to hang out," suggests Novogratz.
Create a mini classroom
Novogratz homeschools her 12-year-old daughter and says that homeschoolers and parents who want to make their home more conducive to education should create a mini classroom that makes learning easy. The design expert says, "For my daughter, I've set up a dry-erase board, very organized desk, filing cabinets and low bookshelves that have wheels for easy access."
| | |
| --- | --- |
| | Don't just stop at your child's bedroom when it comes to making your home a learning-friendly environment. Keeping your home neat and clean is certainly important, but also think of your home as a reflection of your family's identity. "Treat your home as an oasis and take the initiative to decorate it with your favorite things," says Novogratz. "Be unique and create a home that you can thrive in." The more interesting your home is to you, the more interesting it will be to your children. |
More decorating tips for kids
How to decorate a sports-themed bedroom for your kids
Transition your playroom from toddler to teen
10 Quick bedroom makeovers for your kids