Wash Your Clothes
With Steam
If you are shopping for a new washing machine, consider the latest trend: one that uses the power of steam. Here's how a steam clothes washer gets clothes so clean, soft and wrinkle free -- and why you should buy one.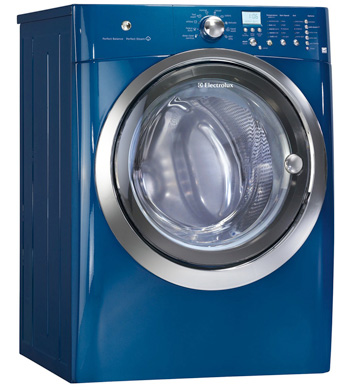 Steam washers are known for their gentle cleaning, tough stain removal and wrinkle-free results. Some steam washing machines create the steam within the tub, using the water inside. Others have a special nozzle system that turns the water into steam in a separate compartment. Steam washers generally have three basic cycles: pre-wash, wash and post-wash. And all offer numerous benefits over their conventional counterparts.
more thorough soaking
In the pre-wash phase, steam works with water to saturate fabrics more thoroughly than water alone. The improved soaking helps remove tough stains.
Improved cleaning power
Steam added during the wash cycle dissolves detergent more effectively and improves cleaning power with its high temperature. You'll notice that fabrics are cleaner and brighter after being washed in a steam washer.
wrinkle smoothing
After the clothes are washed, steam rids clothing of detergent, soften fabrics and removes wrinkles. The result: cleaner, less wrinkled clothes. Some steam washers have a special cycle just for smoothing away wrinkles.
allergen removal
The high temperature of steam sanitizes fabrics without using harsh chemicals. Steam gets rid of dust mites, pollen, pet dander and other allergens. This makes the steam washer a fantastic choice for families with allergy problems.
lower water consumption
A steam washer uses less water than a traditional washing machine. Just a small amount of water can produce a lot of steam. While a top-loading washer uses about 40 gallons of water per load and a front-loading machine, between 15 and 30 gallons, many steam washers use less than 15 gallons per load. Steam washers also require less energy to heat the water. Therefore, a steam washing machine can be more economical for your household.
clothing protection
Because you use less detergent and water in a steam washer, fibers don't break down as quickly and fabrics last longer. You also can throw your clothes into a steam dryer (without washing them first) to refresh fabrics without using any water or detergent at all -- so you extend the life of your clothes and save money on dry cleaning.
A steam washer is more than just a lot of hot air: Their benefits are plenty. Evaluate your needs to determine if a steam washer's benefits outweigh its initial extra cost.
| | |
| --- | --- |
| | Read online reviews of different brands & models of steam washers to find the right one for you & your family. Factor in how much laundry you do, how often you use dry cleaning services & the resale value of your current washing machine to determine if you should switch to a steam washer. |
More about laundry
Top 10 laundry blunders
Make your stinky laundry smell better
Build an eco-friendly laundry room
More From SheKnows Explorer