Laundry Day
Must-Haves
It's laundry day (insert audible sigh here) -- but you don't have to dread doing your dirties if you have a totally cool and organized laundry room. Here are 10 laundry room essentials that will have you looking forward to laundry day -- or at least not hating it.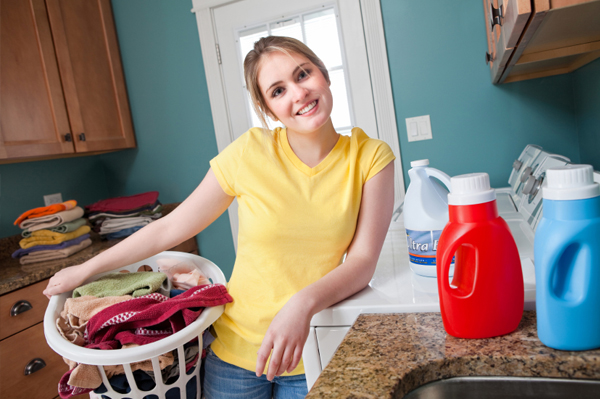 Laundry hampers
Store laundry hampers in the laundry room, and ask the members of your family to toss their dirties in the appropriate hamper (lights, darks, towels, etc.)
Ironing board
An ironing board is an essential part of every laundry room. If you don't have a lot of space, consider an over-the-door folding ironing board that you can tuck away when not in use.

Shelves/product organizers
Shelves, cabinets and other organizers make storing essentials such as detergent, stain remover and starch a cinch.
Stain remover
No family-oriented, organized laundry room is complete without a field-tested stain remover. Keep yours handy by the laundry room sink (or galvanized bucket if your laundry room doesn't have one) to ensure it's always within reach when you need it.
Drying rack
For your line-dry items, keep a drying rack in your laundry room so you can avoid those embarrassing "shoulder nipples" that hangers create.
Dryer balls
Still using dryer sheets? How passé! Dryer balls are the hottest things in the laundry room. These little orbs cut down on drying time, wrinkles and lint deposits on clothes.
Detergent
Of course, your laundry room should be stocked with detergent, but consider your family's needs before purchasing any old clothing cleaner. There's a detergent variety for every need (baby, natural, whitening, etc.), and using the appropriate one will help your clothes last longer. So, save your clothes by spending a little extra time in the detergent aisle on your next shopping trip.
Laundry baskets
Laundry baskets are serious timesavers. Use them to tote dirty laundry from hampers around the house (if you don't store your hampers in the laundry room). They're great organizational tools, too. As you take clothes out of the dryer, put them into baskets designated for each member of your family. Then, solicit your family's help with hanging and putting away clean clothes.
Delicates bag
If you don't want your jeans' zippers to nick up your frilly panties and sexy bras, stash your delicates in a mesh bag before tossing them into the wash.
Washing machine cleaner
Sure, you expect your washing machine to clean your clothes, but have you given it a good washdown of its own lately? Show your washing machine some love with a natural washing machine cleaner like Smelly Washer, which can eliminate mildew, fungus and funky smells.
More laundry room tips
Teaching kids to do laundry
Real moms share their tips for laundry
7 Stubborn stains and how to remove them
More From SheKnows Explorer