Stylish Spring
Home Accessories

Spring has sprung, and we can't wait for the warmer weather and longer days to arrive. To help bide our time between seasons, we've been on a hunt for home accessories that will welcome spring into our living space and help freshen things up just in time for the snow to melt. Read on for some of our favorites.
(page 2 of 2)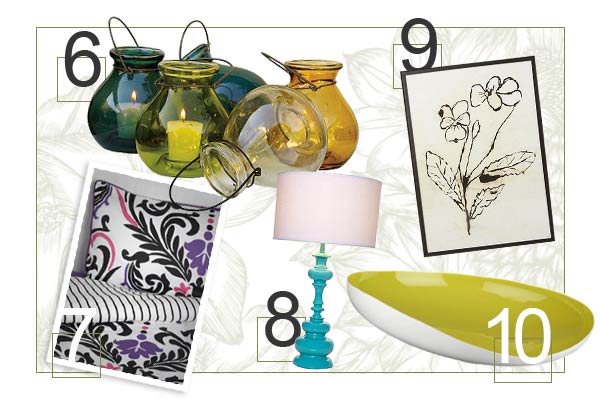 Glass lanterns
When we noticed these romantic recycled-glass lanterns from West Elm ($9 to $25) we immediately fell in love. They're perfect for any spring table, or you can top your mantel with a variety of colors for a whimsical, outdoor-inspired look. They're designed to sit on a flat surface but you can also suspend them from hooks, making for a unique addition to your decor.
Bright bedding
Just looking at this cheerful yet chic Bordeaux Twist comforter cover from Delia's ($49.50 to $58.50) makes us think of spring. Bold purples and pinks will brighten up any bedroom and add a touch of French flair to your sleeping space.
Luxe lighting
Brighten up any room with this Mariposa table lamp in aquamarine from Z Gallerie ($139). We love the high-gloss aquamarine finish on the base and how easily this lamp incorporates into both modern and vintage-themed decor.
Wall art
Reproduced from a 19th-century sketchbook, we were immediately enamoured with the minimalist beauty of these pen-and-ink violas from Anthropologie ($498). Hang this picture in any room for a dose of drama and spring-inspired beauty.
Serving bowl
Impress guests and liven up any tabletop with this liquid yellow organic bowl from CB2 ($42). The uniquely shaped freeform bowl in a pretty shade of yellow is perfect for welcoming spring into your home and displaying fruit, trinkets or just leaving it as is.
Happy spring shopping!