Retro Housekeeping
My, how times have changed in the housekeeping arena over the decades. When we feel overwhelmed with domestic duties, it is helpful to gain perspective by remembering that Mom and Grandma had to hand wash dishes and line dry clothes. Here are a few eye-opening comparisons between what was expected of our foremothers and what's expected of us.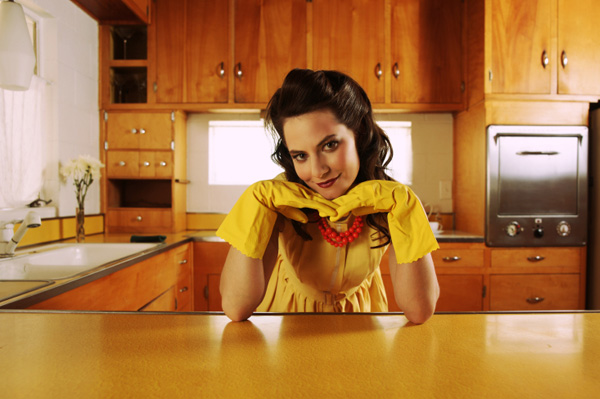 How to clean a felt hat
Brush lightly with sandpaper.
Huh? Most of us don't have a lot of felt in our wardrobes anymore, so this is one housekeeping tip we can dispose of. To clean baseball hats, place in the top rack of the dishwasher, or throw them away. Every American household has about 23 too many baseball hats.
Wash collars
Spread collar flat, use small brush, dip in hot suds, rub briskly.
Hmmm. We don't advocate incorporating housecleaning tips that suggest you do anything "briskly." If dirty collars are a problem in your home, suggest the person with the dirty collar stop sweating so much.
Iron collars
Iron starched collars on a Turkish towel doubled to 4 thicknesses.
These directions are confusing. Iron? Turkish towels? Ironing is so 40 years ago. Join the underground movement that embraces "mockroning." This form of laundering replaces yesterday's hot, heavy irons and big bulky ironing boards by removing clothes immediately from the dryer and either folding or hanging them. If you forget (ignore) the clothes in the dryer, merely throw in a damp washcloth and start the load for another 5-10 minutes. This can be done several times without harming the clothes.
Dusting
Dust carved wood with a baby's hairbrush.
You can do that, or don't buy carved wood. If you do buy carved wood, try frantically fanning your arms by the wood to increase air flow, thereby redistributing the dust. (Make certain no one is around when you do this; it will raise questions about your mental health.)  If this fails, you can resort to every housekeeper's favorite trick - "the wipe." Choose your favorite dusting agent and see if it is offered in a wipe. If it isn't, get a new favorite. In seconds you can wipe dust from carved wood (or any other kind of wood for that matter).
Rug cleaning
Never shake rugs, as it loosens the knots, damages the back and tears the bindings
Yes, never shake rugs. Let Mother Nature do that for you. Toss your area rugs over the back of a lawn chair on a windy, sunny day. Once Mother Nature has done your dirty work, bring the rugs back inside. Work smarter, not harder.
Clean aluminum pans
With cold water, add an onion and simmer gently. Allow this to cool. Burnt stuff will rise to the top.
With all the health concerns about cooking with aluminum, a gal really has to wonder how much cooking she should do. Now this? Boiling onions to get rid of burnt matter? We've got two words for you. Non-stick. Here's two more - eat out.
Stove top
Clean a stove top by dampening a clean cloth, dipping it in baking soda and rubbing the surface.
Here again, we see labor intensive words that make us uncomfortable like rubbing, dipping and dampening. If your stove top is dirty, that means you've been cooking again, and we've already discussed the health hazards associated with this dangerous practice.
More home decor and cleaning tips
More From SheKnows Explorer