How To Decorate
The Christmas Tree
Make your home the envy of the neighborhood with our creative Christmas tree ideas. From unique ornaments and festive garland to creative ideas for tree toppers, be inspired to create a magical Christmas tree the entire family can enjoy.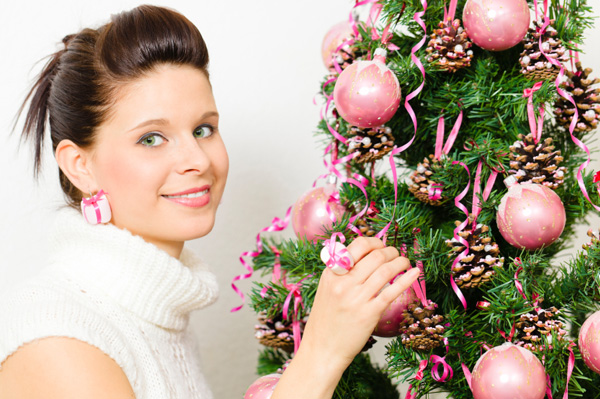 The Christmas tree is the focal point of your house during the holiday season. Find out how to make it shine (and spark some conversation during your holiday party) with these creative Christmas tree ideas.
Themed Christmas tree
Choose a theme for your Christmas tree to give you focus and unity while decorating, says Jami Warner, executive director of American Christmas Tree Association. If you are not sure where to start, Warner suggests thinking about your favorite hobbies.
"Love music? Why not convert that love into a theme. Decorate your tree with musical note ornaments and use old CD's to make a funky shiny garland. Pet fanatic? Pet-themed decorations can include chew toys, cute stuffed animals and snapshots of your furry friend in mini frames," she says. "It's easy to make anything into an ornament with some hooks and bows, so let your ideas flow."
Get your kids in on the fun by letting them decorate a mini Christmas tree that you display in another area of the house, such as the playroom, child's room or den. They will love hanging ornaments on a Disney-themed Christmas tree, Princess Christmas tree, Train Christmas Tree – or whatever else they are interested in! Have them make their own ornaments for a wonderful Christmas tradition.
Tana Siebold-Johnson says that themed Christmas trees are huge in her house – with her mom decorating up to nine trees each year! Here are some of her Christmas tree theme ideas:
Black & White Hollywood Tree
Asian Tree
Circus Tree
Upside-Down Fairy Tree
Purple Tree
Revolving Silver Tree
Under the Sea Tree
Christmas Past Tree
African Tree
Creative Christmas tree ornaments
Give your Christmas tree a little bling by using beautiful old brooches, costume jewelry, charm necklaces or earrings and turning them into ornaments, says DIY expert Blair Stocker of Savers thrift store. You simply thread jewelry wire through the back of the piece and create a sturdy look that can be hung on the tree. Tie a colorful bow at the top of the jewelry to conceal the bottom end of the jewelry wire loop.
Tonya Fitzpatrick, co-host of World Footprints Radio, says she decorates her Christmas tree with ornaments that bring back memories of wonderful trips. "We have started collecting Christmas ornaments and routinely decorate our tree with our travel ornaments. It helps us relive a lovely memory and each ornament provides a topic of conversation for our guests. We make a point of purchasing a locally-made ornament that depicts the culture and/or indigenous population in the area we've traveled to."
Darlene Tenes of CasaQ, says she thinks outside of boring metal hooks to hang ornaments. "I purchase skinny gold or colored ribbons and tie ornaments to the tree instead of using hooks. This way I can adjust the length of the ornament between the branches."
Check out thrift stores for colorful or interesting mittens (or make your own) and hang them from your tree for a whimsical touch to your tree.
Garland
Create your own festive garland by stringing cranberries or popcorn and spraying with a glitter spray for added sparkle. You can also use colorful stringed beads to give your tree a pop of color. Many stores now carry a variety of beautiful garland options, including beaded garland and colorful paper garland.
For a more classic Christmas tree theme, look for garland with berries or pinecones tied into evergreen branches.
Think outside the box of traditional garland, says Tenes. "To make a more colorful festive tree, I have tucked Mexican paper flowers in between the branches and have wrapped a Mexican sarape or blanket around the base as a tree skirt."
Christmas tree toppers
A traditional Christmas tree topper is a star – and there are many options you can buy, including metal stars, glass stars or glittery stars. You can also make your own version of a star by placing sticks in a foam ball and spray painting it with gold or silver glitter paint. Attach it to the top of your tree with metal wire.
You can also choose a topper that goes along with the theme of your tree. If you have a nature or earth-themed tree, consider using a display of feathers, such as peacock feathers, attached to the top of the tree for a fun look. A display of leaves or pine cones can also make a nice Christmas tree topper.
A Santa hat or even ribbons also make a colorful topper to a tree and you can find many DIY ribbon topper kits at craft stores.
Have fun and get creative and don't be scared to think outside the box when decorating your Christmas tree. Happy Holidays!
Holiday how-to
How to make easy, "no sew" fabric Christmas ornaments
Learn how to make easy "no sew" fabric Christmas ornaments. No one will be believe that there was absolutely no sewing involved in these ornaments!
More holiday dEcor ideas
More From SheKnows Explorer