Holiday Parties
With A Twist!
Tired of hosting the same old holiday party every year? Throw in a twist by having a themed party this year. Whether you're expecting a house full of guests or a small gathering of your closest friends, you'll find a theme that fits your crowd. The right food, decorations and supplies ensure everything goes off without a hitch.
(page 2 of 3)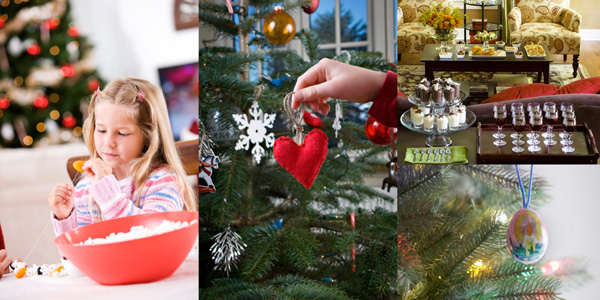 Trim-A-Tree
A Trim-A-Tree party is one of the simplest holiday parties to throw. The theme is centered on readying for a holiday, meaning there is little to prepare prior to the party itself. Before your guests arrive, your tree should be in its stand with the light strands hung and turned on. Set up a table for your guests to create their own ornaments. Have children string popcorn and dried berries for garland. For older children and adults, buy plain bulbs and supply paints and brushes. Be sure to provide enough bulbs so that your guests will be able to design an ornament or two for themselves – it is the season of giving, after all!
There's no need to serve a big dinner for a Trim-A-Tree party, since the guests will all be far too busy for a sit-down meal. Instead, lay trays around the room filled with finger foods and cookies for snacking. This way, your guests can nibble while they work. Use various canoe trays, servers and platters to scatter your delectables throughout your home.
Up next: Winter wonderland party >>