Design A Fun Family Living Room
All of these magazines, catalogs and design blogs make the living room seem like it should be this pristine place for showcasing fine art and your aesthetic -- especially if your aesthetic is white and breakable. But, let's get real. Your living room is a room for living. So why not make it as welcoming and accessible to your family as possible? Here are three quick tips for designing a living room that's family-friendly first and foremost.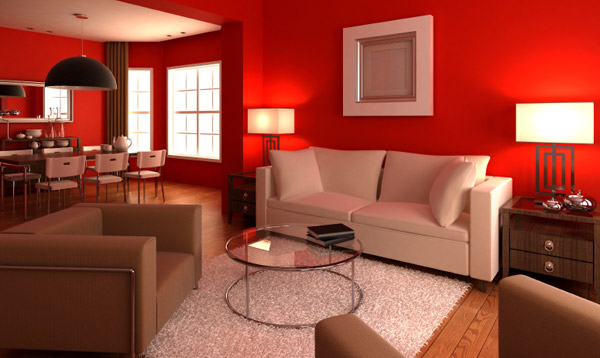 Get honest with yourself
What do you do in your living room? Ask yourself that question and force yourself to get specific with the answers. List every single thing your family does in this room and then address each need.
For example, sure, your kids have desks upstairs, but do they also sometimes do their homework in the living room? If so, maybe you want to get a desk so your son doesn't have to practice his cursive on the carpet.
We know your house has a dining room, but where does your family mostly eat? If it's in front of the TV, make that a nice place to eat with a table that can easily be pulled up to the seating, and maybe even keep napkins or paper towels in the room for easy clean up.
Be flexible
Just because you're designing a room to fit your family's needs now, doesn't mean it's going to be a perfect fit a few years down the road. Buy furniture that can easily convert.
For example, invest in a loveseat from a three-piece set. Once your daughter is a bit older and doesn't need half the room for her train set, you can go back and buy the lounge chair that matches the piece you already have.
>> How to furnish and decorate for a big family
Another idea is to get storage units that come from a modular design. That way, you can add and change according to your needs. (Be sure you buy from stores that seem to be on solid ground and won't go out of business before you come back for round two of shopping.) It might mean spending a bit more initially to get a name brand, but in the long run, you'll be glad you won't have to re-purchase every single item for your living room when your needs change.
>> Tips for organizing the 5 messiest areas of your home
Allow yourself some indulgences
You want your living room to be family friendly -- but guess what? You are part of your family too.
If there's something that you're just aching to have in your living room, but are afraid will cramp your family's style, bring it in -- just be clear with your family. Explain that there is to be no grape juice on your one special white chair, or that shoes need to be off if they want to recline with your brand new ottoman. And if your special element is fragile, keep it up high away from busy hands and on something sturdy that can't be knocked over during a crazy game of tag, Wii or Xbox Kinect play, or a celebratory football victory dance.
Be wide open
Hopefully these three tips will open up your ideas about living room design and help you figure out what exactly will make your living room perfect for your family.
Do you have any tips on what worked for your living space to make it more suitable for your family? We're sure our readers would love to hear from you. Leave a comment below!
More decorating tips

>> Get DIY tips, tricks and techniques to make your home better than ever!
More From SheKnows Explorer