Cook Up In Style
Cooking up a new kitchen may not motivate you to become a gourmand, but even if it's just spaghetti on the menu, preparation time can be made more enjoyable with just a few quick renovation fixes.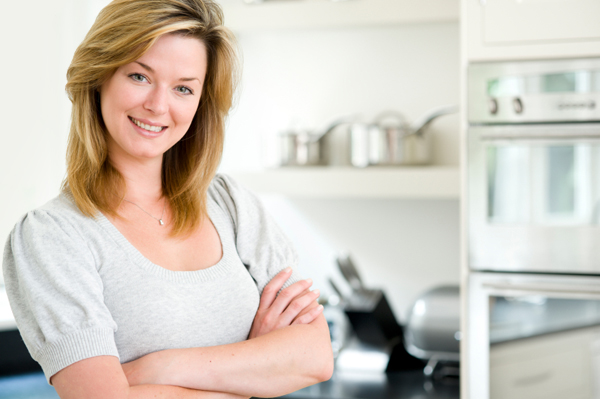 Pick a style
"Before you start to update your kitchen, decide which style you like -- whether it be contemporary, traditional or industrial/restaurant style. Then, you will have an idea of what path to take," said Interior Decorator Christine Newell of Interchanges in Oakville, Ontario.
>> Photo gallery: Get kitchen decor ideas
Clear out everything
Newell said the most inexpensive route to start your quick fix kitchen renovation is to de-clutter counter junk, and store small appliances not used on a regular basis. Most importantly, old wallpaper, borders and paint need to be changed to create a great base for your kitchen transformation.
>> Practical kitchen floor plans
Install or replace
"Installing completely new cabinetry may be expensive, so replace just the doors," Newell says. "Or, take a few doors off to have open shelves to display or stack china restaurant-style. You can also cut out the center of the cabinetry doors and insert clear or opaque glass, wooden spindles or plexi-glass."
She adds, "The best way to change the look of cabinetry to invest in new hardware – it is the jewelry of your kitchen. For those more ambitious, try adding wood molding to frame each door. Topping it off with crown molding on your ceiling and deeper baseboards beefs up the whole room."
>> Dress up kitchen cabinets with new hardware
Repaint
She said when changing the facing isn't an affordable option, repaint melamine or vinyl cabinetry with a new high-gloss latex or melamine paint. Another option is to hire a professional to re-spray old doors.
Figuring out the flooring
"Although some people still prefer hardwood, natural stone floors are becoming more popular. Hardwood flooring is an option that is less expensive to install and perhaps you can even do yourself. Other flooring materials gaining popularity are laminate, cork and bamboo," says Newell.
Updating appliances
Newell strongly suggested replacing old appliances. She said it's a shame when you see fresh paint, an updated counter, new cabinet facings... and a refrigerator and stove that are so dated that it screams '70s almond or avocado. For those wanting a stainless steel look without quite so much expense, there are faux stainless steel appliances now out on the market -- and, because it has less sheen, fingerprints are not so visible.
>> Guide to buying eco-friendly appliances
Lighting it up
Newell said recessed can lighting opened her eyes -- she never knew how dark her kitchen was until she had them installed. "If [recessed can] lights are not in your budget because you need a licensed electrician to install them, then I would recommend track lighting with small halogen bulbs as an alternative," says Newell.
---
More ideas for your home

>> Get DIY tips, tricks and techniques to make your home better than ever!
More From SheKnows Explorer