Did I Do That?
Tissue in the washer? Check. White socks turned pink? Been there, done that. Orphaned socks? Yup. Even laundry veterans have to deal with laundry bloopers every now and then. Read on to discover the top 10 laundry blunders and find out how to avoid them.
(page 2 of 2)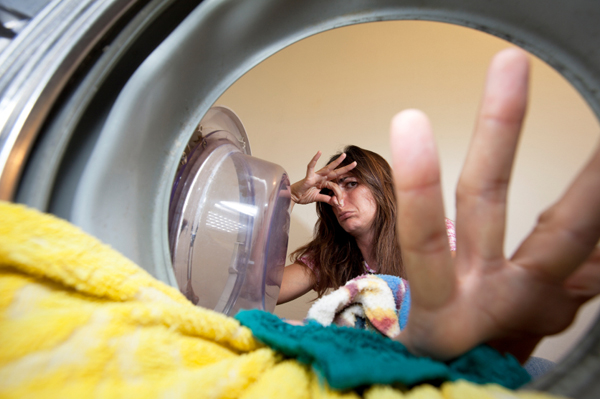 Sorting errors
Poor sorting can turn your nautical-striped shirt into a tie-dyed nightmare. Purchase three laundry baskets to help you properly separate your darks, whites, and colors before loading them into the washer.
Forgetting to empty pockets and close zippers
Be sure to check pockets for lipsticks, tissues, and coins while you sort. Also, remember to close zippers and hooks to prevent snagging.
Overstuffing machines
We know what you're thinking, "Just one more pair of jeans and I'll start this load!" Don't do it! Overstuffing washing machines can actually result in dirtier clothes, or even a broken washer.
Forgetting stain remover
Once a stain feels the heat of the dryer, it's set, and much harder to remove. Opt for a stain stick or stain remover spray to pretreat, or use an in-wash stain remover to catch the stains you miss.
Mildew smells
You started a load of laundry before running some errands only to return home to a nasty, sour smell. Oops! Your clothes were left in the washer too long. To remove the odor, re-wash the clothes with a dose of bleach for whites, or color safe bleach for colors.
More laundry room tips