Deck Out Your Deck
A deck can be a very useful area of your home, giving you a place outdoors to entertain, relax and spend time with your family. With a little bit of planning, you can decorate your deck so that it is not only a beautiful refuge but also a functional extension of your living space.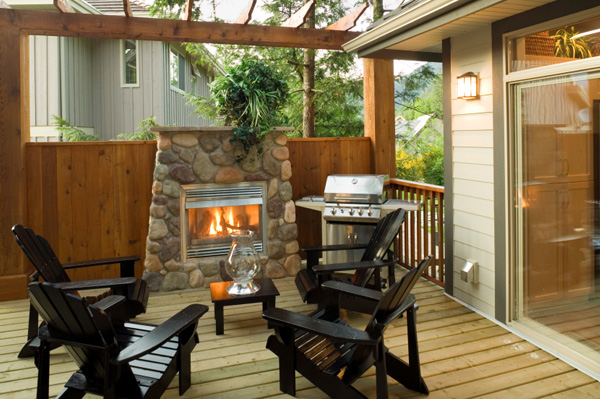 Enhance your cooking area
Most decks include at least a grill, but to get more use out of your deck, add a few more features to make cooking and entertaining even easier. If your deck is protected from the weather, add a couple of cabinets and a countertop to provide storage space for cooking supplies as well as food preparation and serving areas. You can even add a small outdoor refrigerator for extra functionality.
Add lighting features
Adding lighting to your deck not only makes it more appealing for entertaining and relaxing, but will also make your deck more usable, allowing you to use it even after dark. Add small solar powered lights to provide a soft glow without the need for electricity. Installing an outdoor ceiling fan and light if your deck is under cover and wired for an overhead light can add a decorative touch that will provide a comfortable breeze during hot weather. Lanterns can also add mood lighting to the deck area.
Add beauty with plants
Plants can add very a decorative and colorful touch to the deck. Try choosing a variety of plants, including ones that bloom during different times of the year so that there is always some color. You can also add some interest to the deck area by using plants that attract wildlife, such as hummingbirds. Containers of herbs are also a great addition to the deck area, as they are not only beautiful, but can add a great aroma and provide easy access to herb cuttings when cooking on the grill. Also consider planting some small trees or shrubs around the edges of the deck, which will look attractive as well as provide some privacy and shade. An arbor with vines or even grapes can also provide a beautiful shady area.
Provide beautiful and comfortable seating
With so many attractive patio sets available, you will find it easy to select a patio table and chairs that complement your outdoor area. Provide comfortable seating not only around the table for eating but also around the perimeter of the deck for simply relaxing. A full reclining patio lounge chair is a great choice for taking a nap on a shady afternoon, catching a bit of sun or just relaxing with a good book.
Add a patio heater or outdoor fireplace
You will be able to enjoy your patio even when the weather starts to get chilly if you add a patio heater or outdoor fireplace. These attractive units not only look beautiful on the deck, but will provide a welcoming warm area to enjoy on cool summer nights or crisp fall days. Surround it with a few chairs and small end tables, making it an appealing area to gather for conversation and relaxation. If you don't have enough space on the deck itself for a heater, try adding a small fire pit to your yard close by the deck.
More From SheKnows Explorer