6 Fast Fixes
Ever get that dreary feeling when you look at your kitchen -- like it's the same old thing, day in and day out? You wouldn't wear the same outfit every day, so why should you be stuck in a boring old kitchen every day? Here are five fast kitchen updates any gal can do.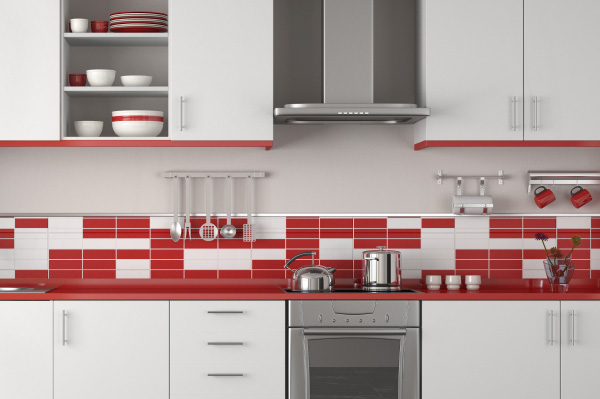 The kitchen is the heart of the home -- and ideally should be functional while showing some personality. Here are five fast, inexpensive and relatively easy ways to update your kitchen in a flash.
1. Change your paint color
If you have little handprints and tiny bits of leftover pasta smothering your walls, it's time to get your paint on. Nothing will update your kitchen faster than a fresh new coat of paint. Think bright, cheerful and uplifting. For 2010, the hottest kitchen colors are shades of red, blue, grey, yellow and purple. If you decide to go with a shade of blue or grey, make sure to add some pop with accessories.
2. New window treatments
Tired of spying on your neighbors through the same dingy blinds? A great way to give your kitchen a new facelift (while still being able to see outside without being seen) is adding some fresh curtains with a pop of color. Pick textures that can handle the extra heat and humidity kitchens dish out.
3. Update hardware
This is a DIY project that can be done in just minutes! If your kitchen is feeling unexciting but you're a bit timid and want to start small, try new hardware for your cabinets. Bright, funky colors with new shapes may be just what you're looking for. Want to go retro? Choose colored glass or flowered hardware in colors such as Grandma's favorite turquoise.
4. New accessories
If it's sitting on your kitchen counter, it should look pretty! Swap your boring flour and sugar canisters for fun, mismatched pots with lids to hold baking essentials. These are easy to find in second-hand stores, but if you don't go through flour and sugar quickly, find some with good seals.
5. Add a tile backsplash
Think this one sounds intimidating? It's not as hard as you think. Here's a great DIY tutorial from HGTV to create a colorful tile backsplash. It gives your kitchen a clean look and updates it in just a couple of hours. Make it even easier on yourself and choose tiles that are already grouped on a sheet so you don't have to place them individually.
6. Update appliances
OK, so this one's price tag is a bit higher, but you can do without the eyesore of mismatched appliances. Depending on the model, you might be able to purchase a new front panel for your dishwasher to change the color from black to white or vice versa. If you decide to update your appliances, consider your family's activity level in the kitchen, the ages of your children and the level of wear and tear you expect to put on the appliance. It's better to invest a bit more up front than to have to replace your appliances prematurely because they don't meet your needs.
More From SheKnows Explorer