Trendy & Timeless
It's the gathering spot for many busy families and as such, the design of kitchens in the home is always evolving. Recent design trends are paying attention to the need for beauty as well as function. Here are six of the most prominent kitchen design trends, and we think they'll be around for quite a while!
(page 4 of 5)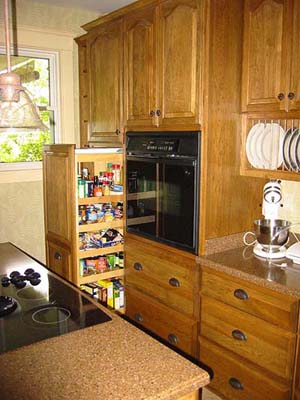 Improving storage systems
Another important trend in kitchen design is providing personalized storage solutions. One family may have fine stemware and china, while another has every type of bakeware you could imagine. Modern kitchen design is trending toward flexible semi-customizable options that meet the needs of the family the kitchen serves.
One increasing popular solution is the roll-out pantry that provides easy visibility of pantry items. No more stacks of cans three and four deep.
Integrated appliances
The trend is toward integrating appliances into the cabinetry of the home. Manufacturers such as Sub-Zero specialize in integrated refrigerator and refrigerator/freezer designs that use custom cabinet faces. Dishwashers are also trending toward furniture looks, so that the design of your kitchen is the focal point, not the appliances.
>> Essential kitchen gear for a new home: Appliances