Keep Colors
Bright
Bright colors are always in style, and no one wants her burgundy top fading to dingy pink. To keep your clothes looking their brightest, follow these simple laundry tips to keep the colors from fading.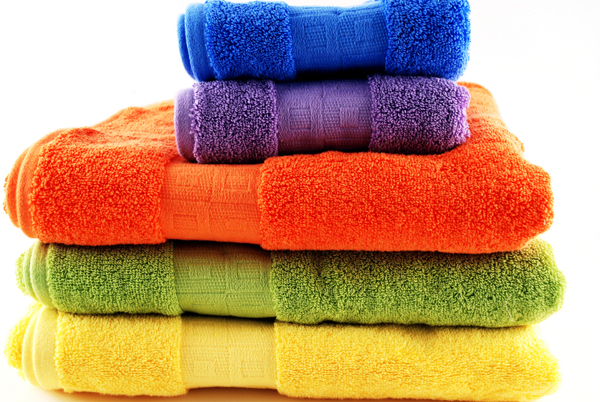 Read the label
When you buy something new, read the care label. This is the best place to get information on how your clothes should be washed and dried. If there's not much information on the label, your safest bet is to wash dark colors together. The best way to prevent colors from fading is to avoid bleeding by keeping the similar colors together. Sort your clothes by color: Dark, light and white. If you have a new item in a dark color, particularly red or blue, it's best to wash it completely separate or with clothes of the exact same color for the first couple washings.
Use the right detergent
Some detergents are specially formulated to prevent clothes from fading. These products have ingredients that will help avoid color loss and keep your clothes looking their brightest. To reduce the break down of fibers and fabric dyes, wash your more delicate clothing by hand or on the gentle cycle in your washing machine.
Turn your clothes inside out
To cut down on the damage to your garments, turn clothes inside out before washing and drying. This will help avoid pilling, which makes hues look dull and dingy, and help stop damage to the fabric from direct contact with the machines. If you hang your clothes outside to dry, be sure you turn all the garments inside out. The sun fades color very quickly.
Wash colors in cold water
Save the hot water for your whites. Wash your colorful garments in cold water. Hot water zaps the color out of fabrics much more quickly than cold. Don't worry that your clothes won't get clean in cold water. Many detergents are now formulated to work just as well in cold temperatures as they do in warm or hot. Also, dry your clothes on permanent press or a cycle with low heat, if possible. The heat from the clothes dryer can also cause color to fade.
Use vinegar to lock in color
Add 1 cup of white vinegar to your wash, along with your laundry detergent. Vinegar will help to lock in the color and keep your clothes looking their best. This is particularly true with bold red, orange, purple and blue. It might sound like an old wives' tale, but it actually works.
Housekeeping and cleaning tips
More From SheKnows Explorer