More Is More
Transitioning your home decor between seasons doesn't have to be difficult or expensive. Take on a few of our tips. You'll be updated and ready for fall with lots of time - and money - to spare!
(page 2 of 5)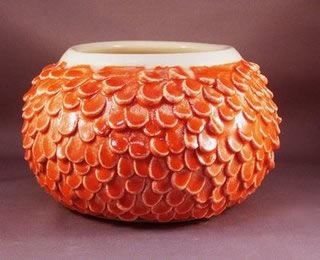 Go bright and go bold
By embracing the new "more is more" idea, you'll find yourself drawn toward brighter colors and bolder designs. Think reds and burnt oranges for fall, and oversized accents like lamps, vases and mirrors. Big contrasts in color combinations are also popular like bright blue with dark chocolate as well as with textures. This Lipstick Tears bowl from the Etsy's Fine Art Collectibles is handmade pottery from Deb Babcock. It just makes you want to reach out and touch it, which is exactly how I like my functional pieces of artwork to be!