Home Theaters
... And Beyond
With such busy lives, it only makes sense that we'd want to spend more and more time enjoying the warmth and familiarity of home sweet home. Many of those hours are likely to be spent listening to music, watching TV/movies, or playing games. So get tips here on how to set up your home for your favorite kinds of entertainment extravaganzas!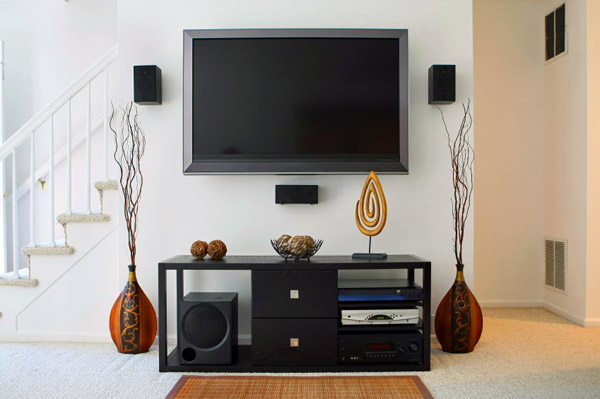 Room to play
Many homeowners are abandoning traditional room layouts in favor of designing specialty rooms or areas within the home. The media area represents a space where the entire family can enjoy their entertainment media requirements both independently or together as a group. Depending upon the size of your current home and your family's media requirements, a media space can be as compact or as large as your existing home permits.
When deciding upon the ideal spot for the family media area, examine all possible options and don't overlook unanticipated locations within the home.
For instance, if your home affords the luxury of a basement and your family's main interest is the home theater, consider converting the basement into a media space. By nature of its location, naturally dark basements may be painted practically in any color scheme without having to worry about the interference of natural light and reflections from windows and mirrors that can blot out television screen images.
Segmenting bigger rooms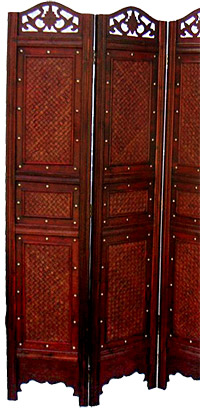 Large family rooms can also be quite easily segregated into family media centers/entertainment centers with the use of various room dividers, such as decorative screens, balustrade/railing materials, or curtains. (Check out the folding screen shown at right at Overstock.)
>> Living room furniture pieces we love
Select a color scheme and consider painting the walls a different shade of color, clearly delineating the "lounging" area from the "media" area. Remember to select shades which share the same intensity of color, to allow for the most harmonious combinations of color within the same area.
Opt for deeper shades of color for media spaces that will function as home theatres, as well as oversized open spaces that need "cozying up." Paler, more muted color combinations are perfect choices for smaller multipurpose areas, where the entire room serves several functions (i.e. an open space family room that also serves as the home office in addition to the media space).
Stay within a scheme
For the media space to graciously coexist with the rest of the home, you may consider designing an area that mimics the same style of decor that is found throughout the rest of the house. If your media area will share living quarters with a rustic-styled guest room, help blend the functions for the entire area using style and color. 
>> Decorate a contemporary living room
Bookcase-styled pieces with wide side shelving can accommodate components and Blu-Rays/DVDs, in addition to personal items and essentials required by guests. Painting the inside of open faced bookcases using a contrasting, color (such as any of today's popular shades of red) makes a dramatic fashion statement that adds interest to the entire room.
Use of color
Furnishings for the home media space are available in every color, style of decor and price point. Inexpensive padded seating is not only comfortable, but can also be purchased in today's hottest colors.
Particularly appropriate for a child's media space, various chair styles can be painted by the youth, showcasing his or her unique artistic ability. Use color to designate the division of space when designing a child's shared play room and media space.
Using a color block paint technique, for example, a do-it-yourself paint enthusiast can opt to paint the top border perimeter of the walls belonging to the play area portion of the room using sunny yellow and white color blocks. Then, paint the top border perimeter of the walls belonging to the media area of the room using your favorite interior color, interspersed with white color blocks.
The entire space can be integrated visually with color and paint technique, by applying a deeper solid colored paint to the entire bottom border perimeter of the wall around the entire room.
Consider painting a coordinating canvas accent rug and window treatment valance using the identical color block design that features the same tones of the color scheme.
Give your home a little more personality
As within in any interior area, these small decorative touches will add an enormous amount of personality to the your family's play/media space.
If your family enjoys participating in various forms of media -- meaning anything from streaming movies to video games to online video conferencing -- consider searching your home to devise a special spot to enjoy your tech. And regardless of its location within the home, the clever application of color and paint can assist with designating the media space as its own entity.
>> How to hook up your big screen TV
Designing a unique home media space is yet another creative way that you can enjoy both your family and your home in the months and years to come!
---
More media

>> Get DIY tips, tricks and techniques to make your home better than ever!