No Fireplace, No Problem
When the stockings can't hang from the mantel with care... Try one of our 12 clever ideas of where to hang stockings if you don't have a fireplace.
Step outside of your Christmas decorating comfort zone and try one of our 12 creative places to hang your Christmas stockings!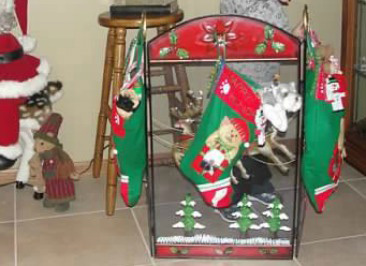 Greta is a stay-at-home mom of four kids, which makes the holidays so much more complicated and exciting. She spends her free time at her blog, Gfunkified. Greta says, "If you don't have a mantel but you do have small kids, one way to get them even more excited about Christmas morning is to hang the stockings at their eye level by using a decorative stand."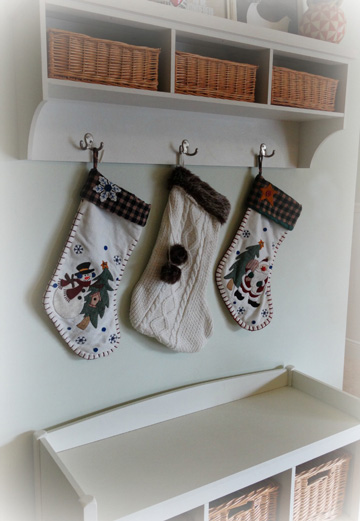 Nicole Morgan is a mother of two and the clever blogger behind Sisters from Another Mister. Nicole says, "Make use of hooks that are already up, such as this storage shelf."
3
Make use of furniture you already have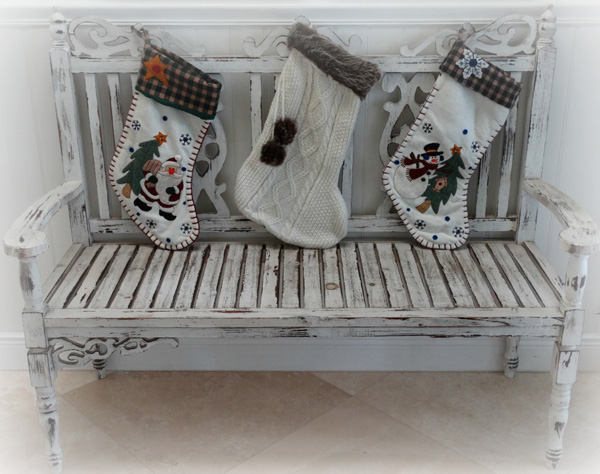 Nicole also suggests that "an entryway bench can be decorated for the holidays!"
4
Ribbons and garlands and stockings, oh my!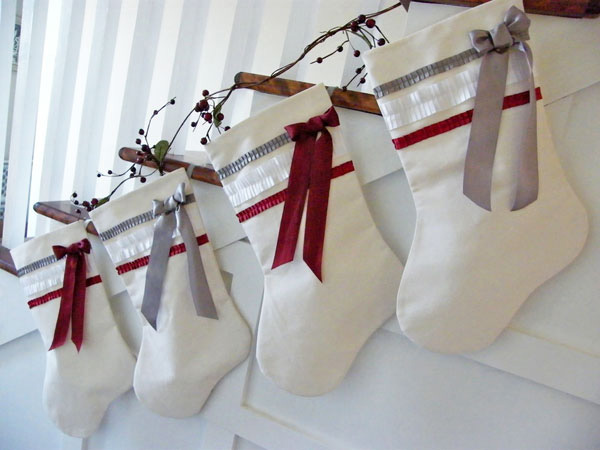 Virginia Fynes is the creator of Fynes Designs, a place where she creates, inspires and parents with original crafts, home decor, delicious recipes, party ideas, holiday style and affordable designs. Virginia suggests using the season's prettiest decorations — ribbons and garlands — to meet your creative stocking needs. She says, "I love these chic ribbon stockings; they look so elegant lining the edge of the staircase, waiting for Santa to arrive!"
5
Look at your shelves in a (clever) new way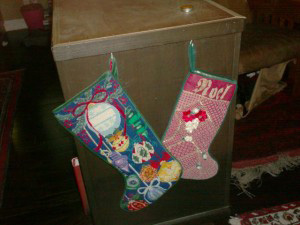 Janet M. Perry is the "Internet's needlepoint expert" at Nuts About Needlepoint. She says, "We have a fireplace, but our mantel is stone and, even worse, slants down, so you can't even use the standing hangers. Between the kitchen and family room we have a half bookshelf, with a lip along the top. We fastened strong cup hooks under that, so they're hidden!"
6
Let your window lead the way to festive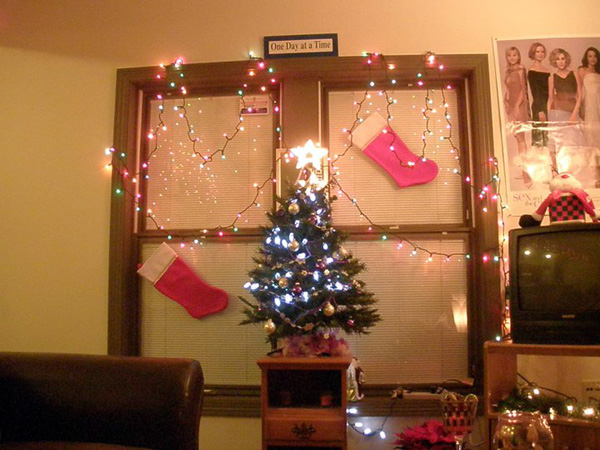 Rachel Kerstetter is a communications professional by day and by night she blogs about marriage, home ownership and living with Type 1 diabetes at her blog, Probably Rachel. She says, "In college, my roommate taped stockings to our window!"
Up next: 6 More alternative places to hang stockings >>